Break the cycle of poverty & inequality by educating girls in Africa
129 million school-aged girls are not in school, and in sub-Saharan Africa 92% girls never complete secondary school [1]. Poverty is one of the greatest barriers. Without money for school fees and books, girls leave school, marrying early and perpetuating poverty. In this way, poverty is both a cause and effect of girls' exclusion from school. CAMFED (The Campaign for Female Education) breaks this cycle by bringing girls back into schools.
"I learned that I'm the leader. I've got the potential. If I'm not going to change the world, then the world is going to be the same. The world is waiting for me to change it."
– Fanny, a secondary student in Malawi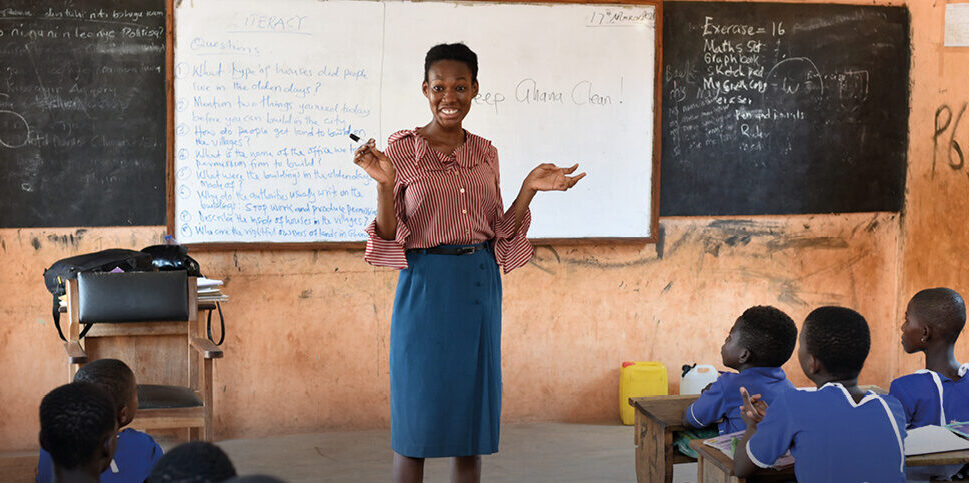 What it does
CAMFED began in 1993 by offering scholarships to 32 girls in Zimbabwe and has grown into a pan-African movement. CAMFED provides loans, pathways for young women to transition out of and beyond school, and support to help alumnae expand business opportunities to create jobs and increase their own income.
CAMFED created SISTER (Social Interest System to Escalate Returns on girls' education). CAMFED's SISTER program enables young women to apply for an interest-free loan to pursue education or start a microenterprise. In lieu of financial interest, participants pay a kind of "social interest" by serving as Learner Guides who return to their former schools to provide emotional support, academic support, and reproductive health information to vulnerable girls.
Once girls graduate from SISTER, they join CAMFED Association (CAMA), the organization's alumnae network. Each CAMA member financially supports on average three other girls in their community in secondary school, fueling a continuous cycle of opportunity. CAMFED has supported more than 5.5 million children across Ghana, Malawi, Tanzania, Zambia, and Zimbabwe to overcome poverty-related obstacles to school attendance. In 2021 alone, CAMFED supported 866,951 girls in education and 31,814 young women in business.
How effective it is
Studies have found that CAMFED's interventions, particularly those incorporating Learner Guides, have significant impact on girls' learning outcomes and retention. In Tanzania and Zimbabwe from 2013 to 2017 the program improved literacy at more than double the rate than among similar girls in comparison schools, and in math, girls improved at nearly five times the rate. Girls also were 1/3 less likely to drop out of school, and 95% of the girls themselves said they felt more positive about their future and more able to shape their life goals.[2]
A 2018 cost-effectiveness analysis of CAMFED's program in Tanzania found the equivalent of an extra 1.7 years of schooling per $100 spent. For the most marginalized girls, the effect was even higher, with 2 additional years of schooling per $100 spent. CAMFED is also effective in supporting young women's livelihoods after graduation. A 2019 evaluation found that participants had higher median ages for first marriage and childbirth than those that didn't participate, and that in three out of four countries, after one year in business, women entrepreneurs with loans from CAMFED earned profits exceeding national thresholds for basic standard of living. Loan repayment rates among young women borrowers are consistently above 95%, demonstrating the effectiveness of its enterprise development programs.[3]
How you can help
The vast majority of CAMFED's funding comes from philanthropic donations. Providing general operating support allows the organization to direct funds where the money is most needed. For example, $10 can buy a girl's sanitary wear for a year in a context where a lack of sanitary products can push girls out of school; $40 can pay for a girl's school uniform, a requirement in sub-Saharan Africa; and $150 can support a girl through secondary school for a whole year. Learn more at https://camfed.org.
More ways to help
In northeastern Tanzania Pastoral Women's Council helps pastoralist and Masai women take control of their own lives and give other girls and women access to education, economic benefits, land rights, and legislative representation. In Florida, Georgia, and South Carolina, Pace Center for Girls emphasizes both academic and social services for middle- and high-school aged girls and young women. For more guidance on how donors can improve the lives of women and girls, see CHIP's XX Factor and Women's Index guidance.