Build a path out of poverty for abandoned children in India
India is home to the largest child population in the world, including 350,000 who live in shelter homes [1]. Make a Difference (MAD)'s network of 3,000 volunteers, support groups, summer camps and individual mentoring provides the stability and nurturing needed for these children to not only survive, but to escape the cycle of poverty.
"I am in a very stable condition now but I had lost all hope. Make a Difference got me back on my feet and now I will be able to clear my exams." 
– a Make a Difference participant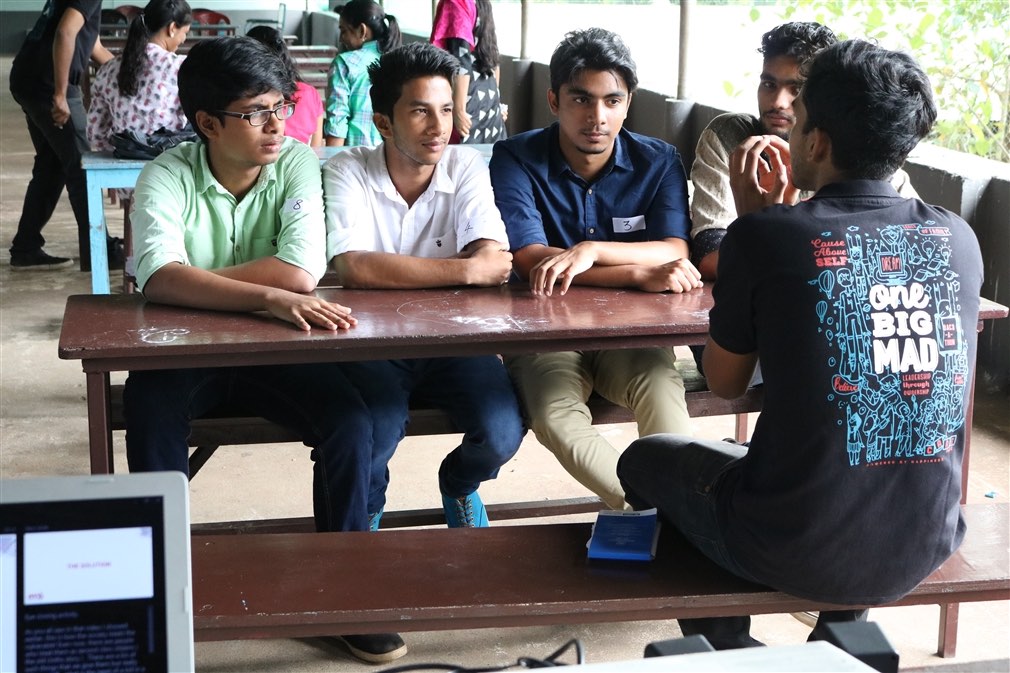 What it does
MAD's Age Transitional Model provides age-appropriate educational, social, and emotional support services for children living in Children Care Institutions (CCIs), the government administered shelter home system for abandoned and orphaned children:
Foundational Program (ages 10 to 13) aims to develop the functional life skills that are the bedrock for learning at later stages. As part of the Foundational Program, children attend "Dream Camps," three-day retreats designed to encourage self-confidence and motivation and give children opportunities to play outside of the confines of CCIs.
Academic Support Program (ages 14 to 16) bridges learning gaps and ensures students complete schooling and can pursue higher education.
Transition Readiness Program (ages 16 to 18) equips youth with the skills to move out of CCIs and transition into work or pursue higher education.
Aftercare and Mentoring Program (young adults in their 20s) supports academic, emotional, social, financial, and professional wellbeing to help them become productive members of their communities.
MAD has served more than 60 communities in 23 cities and more than 3,500 children.
How effective it is
In the 2019-2020 school year, 93% of participants passed the 10th grade standard exam compared to the 50% baseline (children who lived in CCIs but did participate in program), and 93% of participants passed the 12th standard compared to the 25% baseline. Additionally, 72% of participants went on to pursue higher education in 2019-2020 as compared to the 15% baseline. While 92% of children in shelter homes drop out of school by the age of 18, more than 90% of MAD participants have continued into higher education after the age of 18 [2]. Program participants also self-reported improvements in their confidence, academic motivation, self-reliance, confidence, and their outlook towards the future.
These outcomes are associated with well-paid employment that is essential to escaping intergenerational poverty. In 2019-2020, MAD participants pursuing work in the formal sector, an indicator for longer term employment and stability, had 100% job placement, compared to the 60% baseline. They also make significantly more money than their peers: participants with jobs in the formal sector earn an average starting salary of $600 per month, compared to the baseline of their peers earning $200 per month at 35 years old.
How you can help
Over 95% of MAD's revenue comes from philanthropic contributions, with the rest coming from corporate sponsorships. Providing general operating support allows the organization to direct funds where the money is most needed. For example, a donation of $24 supports a child in the MAD program for a month, and $284 supports a child for a year. A gift of $7,075 will provide support for a child from age 10 to 28. In the next two years, MAD's goal is to double the number of children they serve. Learn more at https://makeadiff.in.
More ways to help
In the United States, Youth Guidance's Becoming a Man (BAM) and Working on Womanhood (WOW) programs help at-risk youth make better decisions, more than 13,000 youth in Boston, Chicago, Dallas, Kansas City, Los Angeles, and Washington, DC. For more on helping young people succeed, see CHIP's Pathways to Student Success guidance and our Reconnected: Opportunity Youth Toolkit.
Notes
[1] Press Trust of India. (May 2015) "35 Million Children in India Need Care and Protection: Child Rights Group Head." May 2015.
[2] Yewale, P.  (2019). "Mapping Long-term Outcomes of Institutionalization for Children in Need of Care and Protection (CNCP) in India." Make a Difference/DXC Technology. https://iacn.in/images/resources/f4650b8ba51ef3fff80ff6d218fd7503.pdf