Invest in parents to prevent multigenerational poverty
Poverty, like wealth, is passed down from generation to generation [1]. LIFT seeks to break the cycle of poverty by investing in parents to help children achieve. Through monthly coaching and direct cash transfers, LIFT works with families to build financial strength, social connections, and overall well-being, moving individuals and families toward increased self-sufficiency and away from multi-generational poverty.
"The best thing about having a consistent coach is that they can help you along the way and see your progress. I'm learning how to focus on myself so I can then focus on my kids to help them with their future." 
– LIFT participant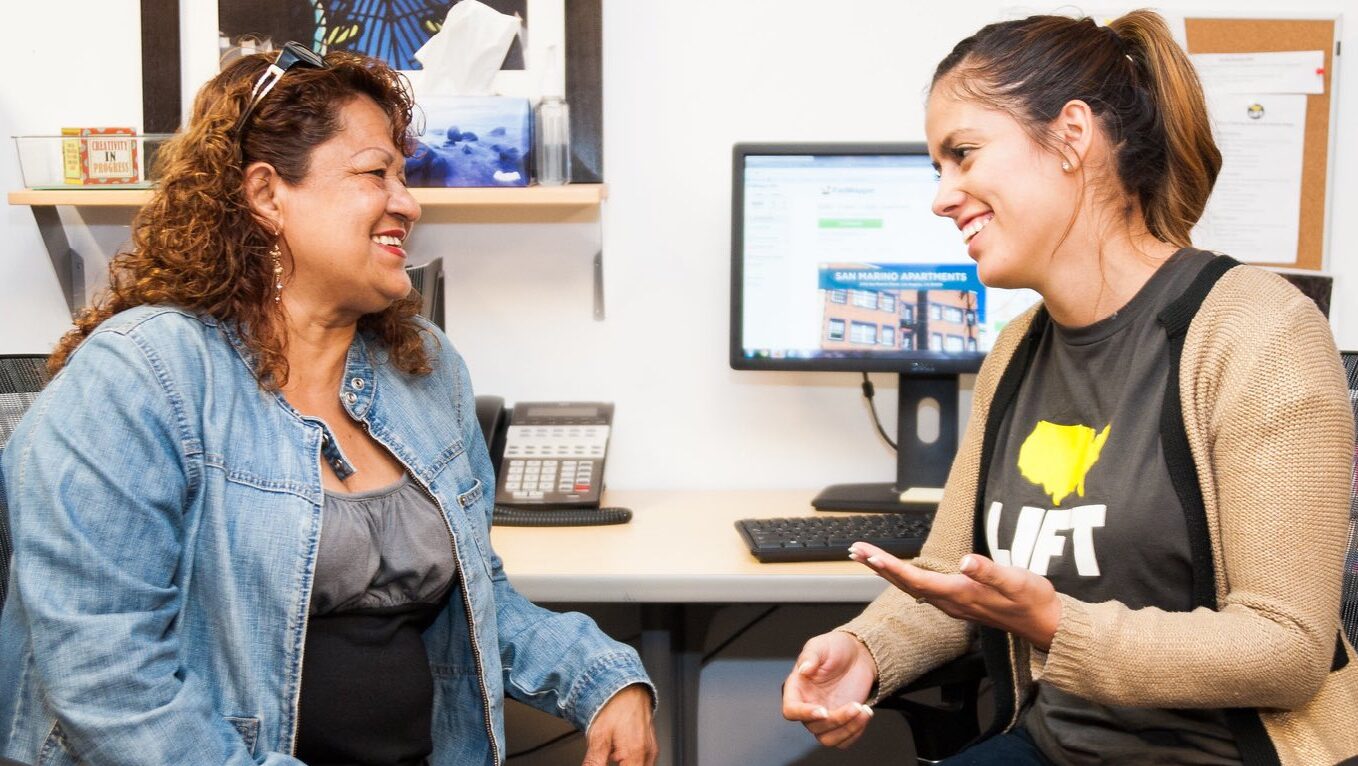 What it does
Founded in 1999, LIFT has worked with more than 100,000 families in Chicago, Los Angeles, New York, and Washington, D.C. In the U.S., generational poverty is more persistent among people of color [2]; 99% of LIFT families identify as people of color and average $14,064 in annual income and $16,000 in debt coming into the program.
LIFT's one-on-one coaching program pairs low-income parents with professionally trained coaches who meet once a month over a 2-year period to create personalized, actionable plans around family goals. Goals can include increasing savings, reducing debt, and securing educational opportunities and jobs. For example, LIFT participant Jimmy, a father of three, worked with his coach to improve his credit score 20 points over the two years since he joined LIFT, and to earn an associate degree in accounting and an associate degree in business.
In 2018 LIFT's Family Goal Fund began providing $150 every 3 months in unrestricted cash for a total of $1,200 over two years (see Guaranteed Income: A Primer for Donors for more on how cash transfers work). As of April 2021, LIFT had provided nearly $582,000 in cash to over 980 families, in addition to emergency funds distributed for COVID-19. LIFT's monitoring shows that parents spent 30% of these funds on food or groceries, 20% on gas or car repairs, and about 10% on expenses directly related to their financial and educational goals.
How effective it is
Surveys of program participants found that within three months of program implementation 94% of LIFT parents reported improved finances, 65% reported reduced levels of stress, and 95% reported building trusting relationships with their coaches. On average, LIFT families that increase their income have an income increase of $21,325, increase their savings by $4,761 (the average savings at the start of the program is $1,910), and decrease their debt by $2,310.
In addition, LIFT has built the capacity of coaches within pediatric clinics to provide quality support during well child and prenatal visits. Initial results from a randomized control trial show families in coaching attended their appointments more often, saved more money and had greater income gains; moreover, there are earlier than expected indicators that the children in the coaching group have stronger social-emotional development compared to the control group.
Through an internal evaluation of the Family Goal Fund, its direct cash transfer program that provides families with $150 every three months, 62% of parents who received the Fund were able to save consistently, compared to only 39% of parents who did not receive funds. Families who received direct cash transfers from the Fund had higher rates of retention, met more frequently with coaches, and built greater social connections.
How you can help
Roughly 90% of LIFT's funding comes from philanthropic contributions, with the rest of its funding coming from government grants and earned revenue. Providing general operating support allows the organization to direct funds where the money is most needed. For example, $1,200 sustains cash transfers for a family across the full two years of the program. Learn more at https://www.whywelift.org/.
More ways to help
Compass Working Capital works with participants in public housing to set financial and educational goals while providing them with the tools to grow their savings. For an organization outside of the U.S. working to reduce generational poverty, see our profile of Make A Difference. For more on supporting children through a two-generation lens, see CHIP's Two-Generation Lens guidance. For ways to address the structural inequality that reinforces intergenerational poverty, see CHIP's Choosing Change.