Help family childcare centers provide high-quality care
Family childcare centers, where providers care for small groups of children in a residential building, are the primary source of care for many young children. This is especially true for children from low-income communities where these providers tend to be the most affordable and available during nontraditional hours. But the availability and affordability of high-quality programs remain inadequate.[1]
All Our Kin (AOK) partners with family childcare providers to build high-quality, sustainable programs that offer accessible, reliable childcare for parents; strong developmental and educational outcomes for young children; and better livelihoods for childcare providers.
"When I get to speak to one of [the All Our Kin coaches] for 30 minutes on the phone, it's the equivalent of six months of work."
– a licensed childcare provider who cares for children in her own home in Stamford, Connecticut.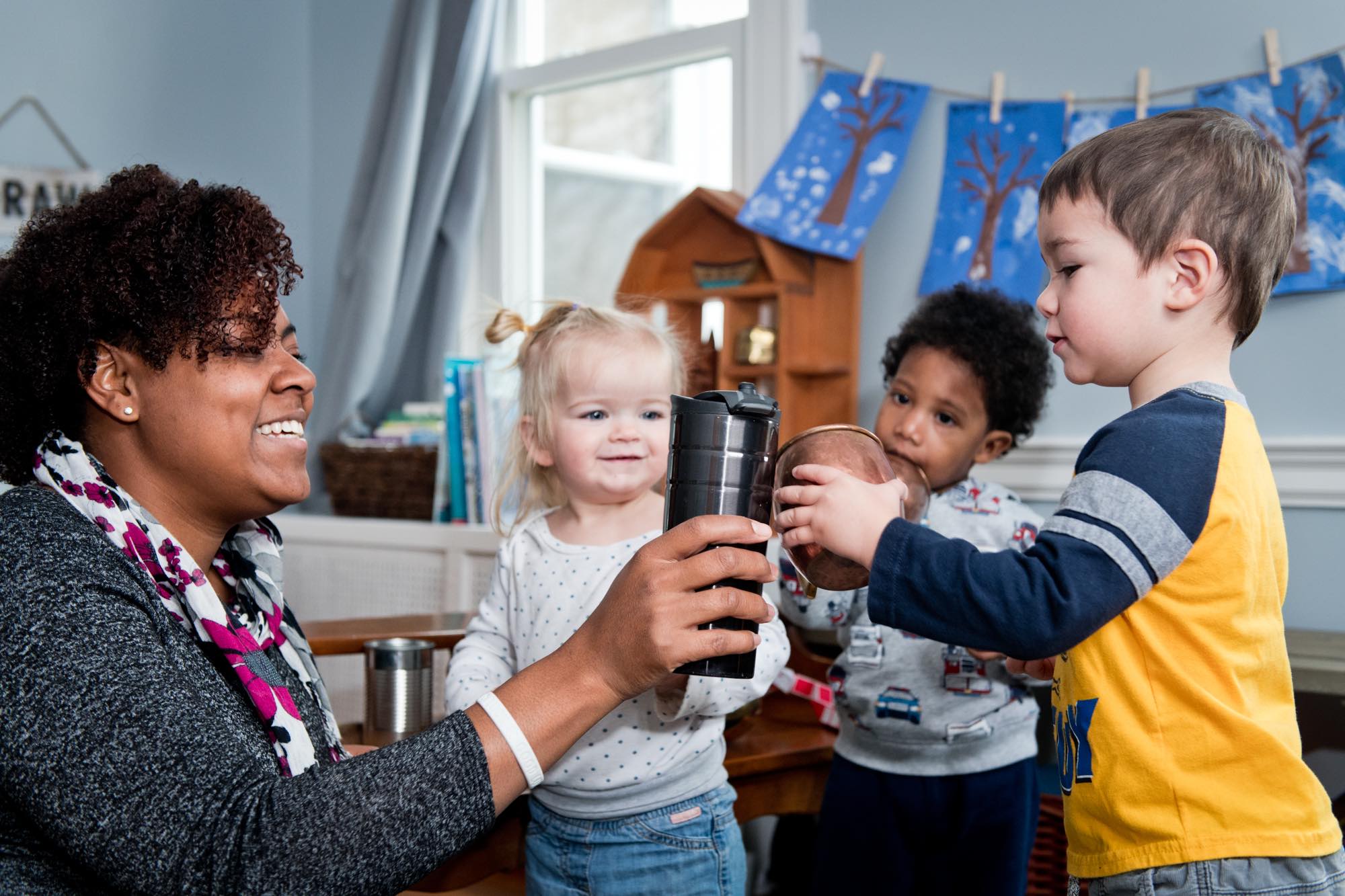 What It Does
All Our Kin serves nearly 1,100 family childcare providers that in turn care for over 6,000 children. To address the need for more high-quality early childcare, the organization works directly with providers by:
Helping them get licensed
Delivering coaching and workshops on topics like caring for children
with special needs that enhance their ability to provide high quality
care
Providing a free 10-week series that builds providers' capacity as
business owners and ensures the longevity of their childcare centers.
Topics include business marketing and accounting. All of All Our Kin's
direct service programs are offered in English and in Spanish.
In addition to these direct services, All Our Kin has partnered with local organizations such as the Louisiana Department of Education, SEIU Education & Support Fund, and the National Center on Early Childhood Quality Assurance in 22 states across the U.S. and in Washington, D.C. to work with family childcare providers to increase the supply, quality, and sustainability of family childcare. To improve policy, All Our Kin has also recently launched a program working with state and local government leaders and releases policy recommendations on increasing the quality and supply of family childcare providers.
How effective It Is
Researchers found that All Our Kin providers scored an average of 53 percentage points higher than non-AOK providers on the Family Child Care Environmental Rating Scale, which measures the safety and quality of family childcare centers.[7] Children cared for by All Our Kin providers also demonstrate better social emotional development than both their non-All Our Kin peers and the national norm.[8] In addition to its impact on children, within one year of completing All Our Kin's licensing or business programs, the majority of providers reported increased earnings by $5,000 or more and 81% of providers said their quality of life improved.[9] That same study found that for every dollar spent on the licensing program, $15 to $20 is returned to society in terms of increased gross regional product (GRP) through revenue generated by childcare providers and parents. For every provided aided by the licensing program, 4 to 5 parents can enter the workforce [10].
How you can help
Nearly 85% of All Our Kin's funding in 2021 came from philanthropic contributions. Philanthropy supports free programming for family childcare providers (e.g., licensing support, professional learning, and business support) as well as the organization's expansion to new cities. Providing general operating support allows the organization to direct funds where the money is most needed. For example, $65 subsidizes quality care for a child for a month, $250 provides educators with two in-depth education coaching sessions, and $1,000 supports an educator completing the 10-week business skill-building series. Learn more at https://allourkin.org.
More ways to help