Improve student performance by expanding the pool of teaching talent
Minority students with at least one same-race teacher perform better on standardized tests, have improved attendance, and are suspended less frequently.[1] For a disadvantaged Black student, exposure to at least one Black teacher in elementary school can reduce the probability of dropping out of high school by nearly 40%.[2] Yet while more than half of US students are ethnic and racial minorities, fewer than 10% of teachers are Black, Hispanic, or Asian American.
By training young men of color in evidence-based practices for developing early literacy, Leading Men Fellowship, a program of the Literacy Lab, diversifies the pipeline for new teachers and prepares young children for kindergarten.
"I thought I would be out playing football or some type of sport. I didn't even, within a hundred years, think I would be in a classroom giving instruction. But this opened my eyes."
– Malcolm, a Leading Men Fellow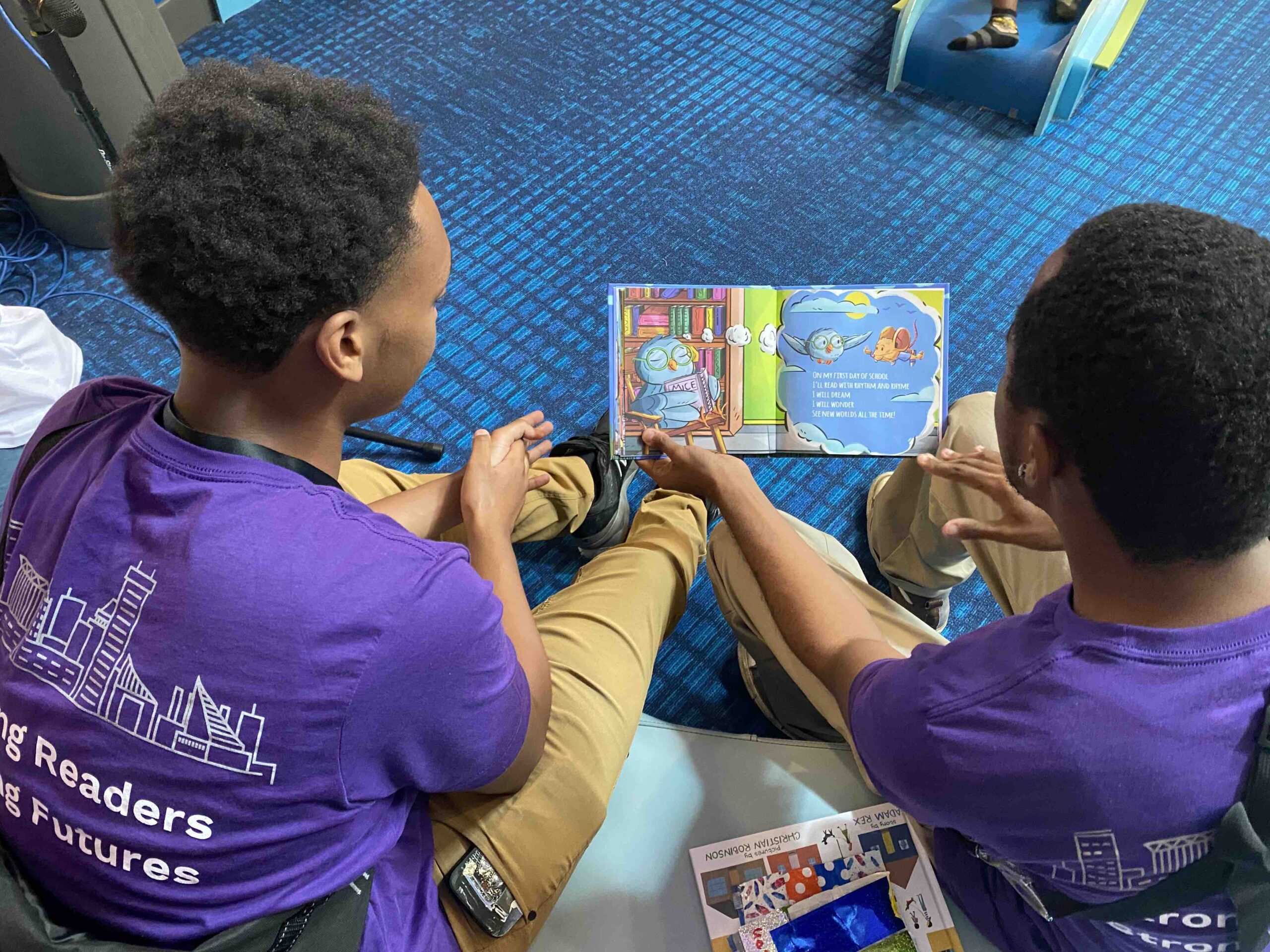 What it does
Leading Men Fellows are all young men of color between the ages of 18 and 24 years old who have graduated from high school but have no college degree. Fellows participate in a year-long, residency-style program that includes over 140 hours of coaching and training in evidence-based, early childhood literacy interventions as well as training in developing children's socio-emotional skills. Fellows work in one pre-kindergarten classroom in an underserved community for the entire school year, working 25-30 hours a week and earning $16.50 to $18.00 an hour depending on their state, as well as a $120 monthly commuter and communication stipend. Fellows also receive college credit from their service, participate in standardized weekly professional learning groups, and receive $2,500 upon completion of the program and college enrollment.
Upon completion of the program, fellows can also elect to come back and serve again and mentor new fellows.
The Literacy Lab launched the Leading Men Fellowship in 2016 with the support from the DC Public Education Fund and in partnership with DC Public Schools, drawing on the Literacy Lab's decades-plus experience providing literacy interventions to underserved schools.
The program has since expanded to Atlanta, Georgia; Baltimore, Maryland; Milwaukee, Wisconsin; Richmond and Portsmouth, Virginia; Cincinnati, Ohio; and Phoenix-Mesa, Arizona. Thus far, over 180 Fellows have tutored over 3,000 pre-kindergarten students.
How effective it is
A 2015 quasi-experimental external evaluation of the program also found that participating pre-kindergarten students were kindergarten-ready in five out of five areas of early literacy, while students in classrooms without fellows were kindergarten-ready in only one out five areas. The program was found to be effective across a range of settings and for all pre-K students regardless of race or ethnicity, gender, or English as a second language status.
Studies show that every $1 invested in quality early childhood literacy programs can yield returns between $4 and $16 through higher worker productivity, lower education costs later in life, reduced crime, and less reliance on government assistance.[3]
84% of Fellows planned to pursue a career in education at the end of the 2021-2022 school year, growing and diversifying the pool of teaching talent.
How you can help
About 55% of The Literacy Lab's funding comes from philanthropic sources, with the remaining coming from Americorps grants and local partners that contract the organization to provide tutoring services. Providing general operating support allows the organization to direct funds where the money is most needed. For example, $120 will cover a fellow's commuter and communication stipend for a month and $2,500 for a fellow's higher education award when they successfully complete their year of service. Learn more at https://theliteracylab.org/.
More ways to help