Ensuring reliable, local news
COVID-19 highlighted what WHO terms an "infodemic"—endless information, but much of it is unreliable or contradictory. Given the decentralized response to COVID-19 in the United States, localized civil unrest related to racial justice, and widespread misinformation on social media, local, reliable news sources are especially critical to reach both urban and rural communities. Resolve Philly supports news and information that reinforces social distancing, helps people understand how COVID-19 is affecting their community, and highlights local ways to find economic, social, and medical assistance.
What It Does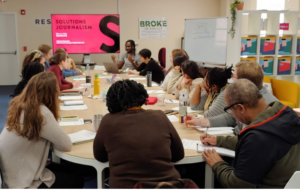 Resolve Philly works to counteract this 'infodemic' by supporting the reporting of local news partners, elevating local voices and solutions to improve the flow of information to and from communities. Originally a project of the Solutions Journalism Network, which trains journalists to rigorously report on responses to social problems, Resolve Philly was founded as its own organization in 2018.
Resolve's longest-standing initiative is Broke in Philly. Broke in Philly brings together more than 20 local newsrooms to report on economic mobility solutions for the one-half of Philadelphians who can't make ends meet. The initiative also tracks the city's push towards financial equity and the eradication of poverty. While the bulk of Broke in Philly reporting is executed by its newsroom partners, Resolve's team provides editorial leadership, facilitates collaboration among partners, and supports deep investigative journalism work that is made available for publication by any collaborating newsroom. Resolve's community engagement team works continuously to build connections with communities that are under- or misrepresented in news media, working to ensure that the reporting collaborative's storytelling and news coverage is as community responsive as possible.
To meet needs during the COVID-19 crisis, Resolve Philly launched Equally Informed Philly (EI), a text-based service to bridge the information divide for those most directly impacted by the physical, social, and economic fall-out of the pandemic. EI's Equal Info text line is an individualized question and answer service available in English and Spanish with 1,000 regular subscribers in less than six months. The text line also shares easily accessible local news and information through weekly texts with news from partner newsrooms and relevant resources.
In addition, Resolve Philly has developed Reframe, a set of tools and resources that help reporters use more authentic, accessible language in their reporting.
How Effective It Is
Resolve Philly has expanded the types of Philadelphia stories reported on, increased the size and diversity of media audiences, and influenced policy that affect citizens.
Broke in Philly has published more than 800 stories and videos on economic mobility since it launched in the Spring of 2018. Reporters in partner newsrooms say the capacity and diversity of perspectives Resolve provides leads to articles that outlets could not report in isolation. The collaboration—which includes the Philadelphia Inquirer, local NBC and Telemundo affiliates, public radio, BIPOC media, single subject news sites, and digital startups—brings stories to a large, diverse audience. The Reentry Project, an earlier project that coordinated a similarly broad and diverse partnership, won the Associated Press Media Editors' Community Engagement award.
Resolve's reporting has enabled responsive policy. After one of its efforts, the Reentry Project, reported on challenges faced by deaf detainees, the Philadelphia Department of Prisons hired sign language interpreters. Following a Broke in Philly story showing that nearly $3 million in bail fees for resolved cases were retained by the city of Philadelphia in 2018, Pennsylvania's First Judicial District revoked the policy. The city now retains no bail for resolved cases.
How You Can Help
Funders can support Resolve Philly directly or by supporting their local newsroom partners, including WHYY, Philatinos Radio, Generocity, or others listed on the Broke in Philly website. Every dollar donated directly to Resolve supports family-sustaining wages, comprehensive benefits, and contracts with local vendors, prioritizing Black- and Brown-owned businesses whenever possible. Contact Becka@resolvephilly.org for donation options.
More Ways to Help — City Bureau is a nonprofit civic journalism lab based on the south side of Chicago that has been expanding local journalism with efforts including public newsrooms and neighborhood documenters since 2015. The American Journalism Project funds existing nonprofit newsrooms and provides intensive support to develop grantees' fundraising and commercial media capacity. The Solutions Journalism Network supports community efforts to create positive social change with collaborative reporting that empowers citizens to take action and encourages responsive policy.
Read more about how to support local media in our We the People guidance.