Logistics to deliver rural health care
While treatments in health care have advanced, there are still many people that are unable to access basic medications, family planning, and other health services due to logistics challenges. The greatest burden is borne by rural communities where no hospitals exist, only health centers that operate with very limited resources. As a result, 83% of rural inhabitants in Africa are unable to access critical health care. Riders for Health (Riders) works with organizations and government entities to design and implement sustainable and customized transport solutions.
Beacon Award Semi-Finalist
Among the profiles in this guide are organizations recognized by the University of Pennsylvania's Lipman Family Prize. The prize is an annual, global prize recognizing leadership and innovation in the social sector. The Prize's inaugural Beacon Award recognizes past honorees for their success in growing their impact. CHIP works closely with the Lipman Family Prize staff, fellows, and award committee to identify finalists. HOPE and CareMessage were co-winners of the inaugural Beacon Award. Soccer Without Borders, Riders for Health, READ Global and iDE are all honorees who have adapted their important work to the pandemic. To learn more about the prize and past honorees, visit  at the Lipman Family Prize site.
What It Does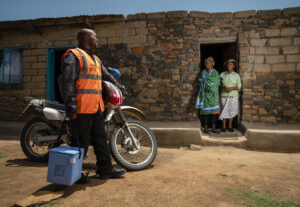 Riders for Health transport patients, blood samples, medicine and equipment to health facilities throughout rural communities in partnership with ministries of health from five countries in Africa (The Gambia, Liberia, Nigeria, Malawi, and Lesotho). They also maintain and operate vehicles used for healthcare logistics.
Riders for Health's model differs across the five countries in which they operate, but their core activities are transportation and maintenance of the vehicles used in healthcare logistics. They partner with ministries of health to support critical services such as transportation of drugs and samples for testing, ambulance service, transportation of patients and health care providers. In The Gambia in 2018, Riders distributed 58,253 bed nets for prevention of malaria and other infectious diseases. In Lesotho, Malawi, and Nigeria, Riders picked up 2.0 million samples and returned 1.6 million testing results. In Nigeria and The Gambia, Riders covered a combined 580,285 km in the course of their transportation services.
As a critical part of the public health infrastructure in the countries where they operate, Riders for Health are instrumental in the response to COVID-19. They have been engaged at policy level, through technical working groups and WHO cluster meetings, in addition to facilitating COVID-specific logistics, including specimen referrals and managing vehicles used for COVID-19 response activities. For instance, in The Gambia, where 60% of the population lives in remote areas, Riders' emergency health transport service helps patients to facilities with the appropriate equipment, such as ventilators, quickly. Cumulatively, more than 40,000 COVID-19 samples have been transported through Riders' systems.
The organization has previous experience containing a deadly infectious disease: In early 2017, Riders Liberia stationed 60 couriers covering 302 pickup sites across all 15 counties in the country. From January to June of 2017, a total of 1,631 samples were collected for laboratory testing for eight priority diseases of epidemic potential, including Ebola, contributing to the effort to eradicate the disease.
How Effective It Is
Riders for Health transportation and logistics services increase the capacity of healthcare providers to drive better outcomes for 30 million people across the five countries where they operate. Prior to Riders' involvement in Liberia starting in 2015, most healthcare vehicles would quickly break down due to use of contaminated fuel or lack of maintenance. Drivers were untrained volunteers, and were involved in numerous accidents. Riders Liberia now manages a 500 vehicle fleet with six maintenance hubs across the country. As in other Riders countries, vehicles help patients complete referrals by transporting them to appointments, and transporting samples to enable better diagnostic services. A lab in Nigeria increased the number of samples they managed from 400,000 in a year to 1.5 million after contracting with Riders.
In The Gambia, Riders owns the fleet of healthcare vehicles and leases their use to the Ministry of Health in a model they call total asset management (TAM). This model has enabled every community health facility in the country to have an ambulance, and greatly increased the number of facilities and services the healthcare system can support. From 2008 (before TAM) until 2018, the number of community healthcare facilities has increased by 30% while the number of primary healthcare providers has increased by 81%.
How You Can Help
Riders for Health operates as a social enterprise which is primarily funded by government contracts and fees for service. Each country is a separate legal entity, but each county's leadership participates in the international support office to coordinate across countries. To support Riders for Health, contact Kayode Ajayi, chair of this office and Executive Director of Riders Nigeria, at KAjayi@ridersng.org. They estimate the cost of a sample/vaccine transport bag at $120, training a new rider on maintenance and sample transport at $1,000, and an all-terrain ambulance at $12,000.
More Ways to Help — If you are interested in other global community health providers that serve rural communities, see CHIP's profile of Last Mile Health for an example of training community health workers to strengthen primary health services. Find more community health organizations and models to support in CHIP's guidance, Community-Based Approaches to Health.