Providing jobs and connections to returning individuals
Returning home from incarceration is a time of economic risk, worsened in recent months by the effects of COVID-19. Business closures have made finding new employment difficult. This has disproportionately affected low-income communities of color, to which many incarcerated individuals return. Due to the high risk of community spread for the virus in correctional environments, many jails, state departments of correction, and the Federal Bureau of Prisons have released people early. Center for Employment Opportunities (CEO) is supporting returning individuals at this especially crucial time.
What It Does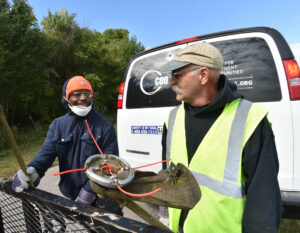 CEO immediately connects an individual returning home from a period of incarceration with a transitional job, skills training, and ongoing career support. This leads to full-time job placement and post-placement retention support services. Initially, work on a maintenance crew provides an immediate opportunity to earn a paycheck and build skills—as early as four days after signing up. In total, CEO operates in 30 cities in 11 states.
Participants earn a paycheck while building connections with staff, creating a work history, and connecting to more comprehensive services. They meet one-on-one with a coach regularly while in the program, and up to a year after job placement. Individual and group programming emphasizes the practical skills of getting and maintaining a job (interviewing, dealing with conflict, how to describe past conviction). Participants receive monthly stipends for maintaining employment and meeting with their CEO coach. If they lose a job, they can re-enroll in transitional work during their job search. In addition to supporting participants, CEO works with private partners to recruit and support employers open to hiring CEO graduates.
In response to the pandemic, CEO, as much as safely possible, has kept their transitional work crews operating, understanding the importance of a daily wage for their clients. CEO program participants provided, and continue to provide, essential services during this pandemic. Between March and November 2020, CEO enrolled approximately 2,500 participants directly in services. This represented a decrease from 2019, driven by needed program modifications to ensure safety and social distancing in accordance with health authority guidelines. For example, on CEO crews that use passenger vans for daily transportation to and from the work site, reduced capacity allowed for safe social distancing during the work day. CEO also partnered with state and local governments to maintain state roads and public parks; provide enhanced cleaning services to public buildings and housing; and assist local food banks with food distribution. Furthermore, other crucial supports like job coaches and business account managers continued to work remotely with clients and help those who lost their job regain employment.
To fill the gap in services due to COVID-driven program capacity reductions, CEO began the Returning Citizen Stimulus (RCS) program. The RCS provided up to $2,750 in cash assistance to more than 8,000 program participants. CEO partnered with other reentry organizations in six cities to provide income support to their clients as well. In total, CEO has distributed more than $270,000 in support.
How Effective It Is
CEO's model of job readiness and employment placement is proven effective. Stable employment is a strong predictor of lower long-term recidivism. A rigorous study found that CEO reduced the three-year recidivism rate by up to 22% for participants recently released from prison, with particularly strong effects for the most high-risk groups such as young adults, those without a high school diploma or GED, and those with prior convictions. The same external study estimates that, based on overall effectiveness, the program generates between $1.26 and $3.85 in benefits to society per $1.00 of cost.
How You Can Help
The cost of providing CEO services is approximately $6,000 per participant for the year-long program, including $1,000 in direct payments to participants. You can fund CEO at a national level, or provide support to any one of their community-based offices in California (Los Angeles, Marin, Oakland, San Bernardino, San Diego, San Jose, Sacramento, Fresno, and Riverside); Colorado (Colorado Springs, Denver); Kentucky (Louisville); Louisiana (New Orleans); Michigan (Detroit); New York (Albany, the Bronx, Buffalo, Manhattan, Rochester); North Carolina (Charlotte); Ohio (Cincinnati, Cleveland, Columbus); Oklahoma (Oklahoma, Tulsa); Pennsylvania (Harrisburg, Philadelphia, Pittsburgh); and Tennessee (Memphis). Donate at the CEO website.
More Ways to Help — To support the mental health and wellbeing of reentering individuals, Homeboy Industries provides therapeutic services in the Los Angeles area, while also connecting formerly incarcerated individuals to other key supports and employment opportunities (i.e., via social enterprises).