Support for parents, caregivers, and children under stress
The COVID-19 pandemic has exacerbated the challenges for low-income families with children. Child First is working with families in new and innovative ways so that they can receive critical, consistent services during this unpredictable time.
What It Does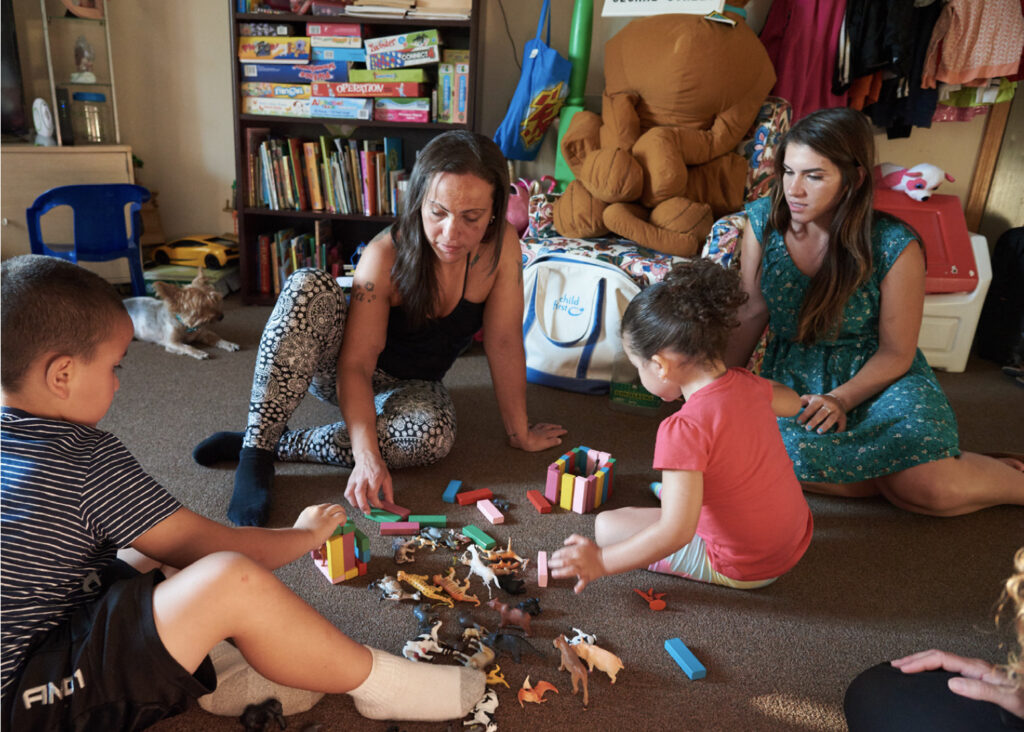 Child First is an evidence-based program that delivers therapy for both parents and children in the home for families with children under 6 years of age. Each family is connected with a Child First team, made up of a mental health/developmental clinician and a care coordinator. This two-generation support builds strong, nurturing, caregiver-child relationships, promotes adult capacity, and connects families with needed services. Child First's home-based intervention has proven to reduce child abuse and neglect.
Child First currently has 15 affiliate sites in Connecticut, five in North Carolina, and three in Florida. Each team, working out of the affiliate sites, serves an average of 23 families a year. Through therapy, Child First helps families understand the causes of negative behaviors and teaches positive responses, like managing anger, being nurturing and responsive, and getting the most out of play. Through care coordinators, Child First helps reduce the stress that comes from deep poverty and lack of resources.
At the start of the COVID-19 pandemic in March 2020, Child First teams of care coordinators and mental health clinicians immediately transitioned to providing services via telehealth. All affiliate sites are providing "visits" remotely, contacting families via video conference or phone. In September 2020, 12% of services were provided in-person, under special circumstances with safety guidelines followed.
Child First provided intensive training to affiliate site staff so that they were able to be effective with tele-visits. By staying connected, they are able to assess the level of risk and needs of each of their families. Needs vary and can include maternal depression, substance abuse, child welfare involvement, major child behavioral challenges, domestic violence, chronic and acute health problems, food insecurity, housing instability, and job loss.
Emergency funding during the pandemic supports basic needs for families including delivery and access to technology, food, appliances, diapers, utilities, and housing. For one family in Florida, this emergency funding was used to move the family into a new trailer home which was necessary to preserve their health and safety. Care coordinators have also learned to navigate families' medical needs, often locating necessary resources and supporting families who do not speak English.
How Effective It Is
According to a randomized control trial before COVID-19, children in Child First were 68% less likely than a control group to have the kinds of language delays that might put them in special education. They were also 42% less likely to have behavior problems like ADHD or aggression. Compared to mothers in the control group, Child First moms reported 64% fewer mental health problems, making them more able to care for their children.
After three years, the percentage of Child First families compared to control families still involved with Child Protective Services (CPS) dropped substantially from 45% to 27%. Child First is cost effective: the intervention costs about $9,000 to $10,000 per family compared to the $86,000 to provide traditional case management to a family in CPS for three years.
Since instituting telehealth during the pandemic, demand continues for Child First services, with a steady increase in the number of families seen from April–October 2019 to April–October 2020. Child First staff have identified new and creative methods to maintain a therapeutic relationship with families via telehealth; although the average time spent with a client per visit has decreased, the average number of contacts per client has increased by 14%, and discharges have decreased by almost half. Telehealth also provides increased flexibility when accommodating families' schedules and reaching families in rural areas.
How You Can Help
Child First is actively expanding to new states, and philanthropy is a critical source of start-up funding that supports Child First's ability to reach more families in need. This funding supports the cost of intensive training, consultation, data collection, evaluation, and other expenses not covered by public funds.
Child First established a COVID-19 Emergency Relief Fund to be able to act immediately and get resources into parents' hands to avoid hunger, eviction, and severe health risk. As of December 1, 2020, Child First merged with Nurse-Family Partnership, a nurse-visitation program that provides support and services for new parents living in poverty to ensure better health for the entire family. A $50 donation provides one family with a new tablet to engage in telehealth with their Child First team, $100 covers necessary grocery, diaper or utility costs for a family, and $1,000 supports greater financial costs for families including rent, insurance, and re-location assistance. To donate any amount, visit the Child First website.
More Ways to Help — To learn more about investing in early childhood education, visit CHIP's Early Childhood Toolkit. Find more two-generation approaches to support young children in Two-Generation Lens: Helping Children by Helping Families.