Donor funds, when supporting the right efforts, can transform people's lives and communities. The issues we focus on are among the most challenging facing society, but the programs and organizations we profile demonstrate daily that positive impact can be created.
While multiple measures show that U.S. democracy is weakening, local and national organizations are shoring the underpinnings of civil society. We identified nonprofits through our work for We the People: A Philanthropic Guide to Strengthening Democracy. These organizations are increasing civic engagement and reinvigorating local media, two ways to rebuild the essential elements of democracy.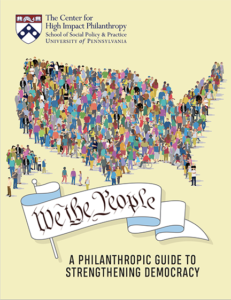 Mental Health and Addiction
Mental health and substance use disorders have an outsized impact on families and communities, yet services and treatments to address them are drastically underfunded. In Health in Mind: A Philanthropic Guide for Mental Health and Addiction, we describe five strategies for improving mental health and addiction services at every level and stage. These organizations are putting those strategies into practice.