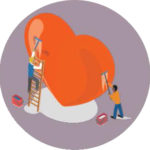 What It Does
Many voter mobilization efforts are led by organizations that "parachute in" a month before an election and fail to take advantage of existing civic infrastructure. Faith in Action uses an integrated voter engagement approach to embed voter mobilization into the activities of faith-based organizations. Its sustained engagement efforts empower citizens to participate across and between multiple election cycles. They tap into existing social networks (congregations), connect political participation to issues that the community cares about, and ask volunteers to recruit their friends and family. Its chapters model how relationships and social networks can amplify the reach of civic engagement efforts.
Faith in Action is a national network of community organizers fighting against racism, discrimination, and economic inequality. The model brings together congregations from all denominations and faiths as the institutional base, creating a values-based organization for change. Because affiliated chapters have strong community roots, they aim to solve local, neighborhood issues before moving on to broader issues at the city, state, and federal levels. Further, Faith in Action provides leadership training to organizers and clergy members centered on five key objectives, including how community organizing can fight racism and discrimination, build relationships across faith, race, and socioeconomic lines, and promote community empowerment.
How Effective It Is
In organizing faith-based communities, Faith in Action taps into networks that are more diverse and representative than most organized civic groups, which are disproportionately white, college-educated and professional. When mobilized, these networks have successfully engendered responsive policy. Since each chapter's local issues are distinct, the organizing tactics vary across geography. An Indianapolis-based chapter successfully campaigned for a ballot measure to expand bus service so that three times as many people had access to a low-cost commute. A Massachusetts chapter organized a legal challenge that prevented 2,000 Hurricane Maria evacuees from being evicted from their temporary housing.
Its Florida chapter, Faith in Florida, organized support for a referendum restoring voting rights to returning citizens with felony convictions in the state. In partnership with 800 congregations throughout the state, Faith in Florida coordinated a "Souls to the Polls" campaign that brought 200,000 voters in 30 cities to vote on the Sunday before election day. Thanks in part to these efforts, the referendum passed in November 2018. Faith in Florida is continuing its work to protect newly restored voting rights from attempts to restrict them through ongoing advocacy efforts.
How You Can Help
Faith in Action's model allows for funder support at both the national and local levels. Its chapters, called federations, rely exclusively on philanthropic revenues, volunteers, and in-kind contributions, while the national organization collects dues from individual federations. There are currently 45 active chapters in 20 U.S. states, with three new federations being developed in Georgia, Illinois, and Wisconsin. Giving to the national affiliate of Faith in Action supports the development of new federations, training programs, and federal advocacy work on issues such as disaster relief, immigration reform, and criminal justice reform. Donations for federations supports local advocacy, organizing, and training efforts. Faith in Florida estimates the cost of training a congregation's leadership on integrated voter engagement at between $150 to $300. "Anchor congregations" take on greater responsibilities, organizing other congregations and hosting phone banks. Faith in Florida estimates the staff time and equipment for an anchor congregation's three-month campaign cost $25,000 to reach 4,000 voters face-to-face or over-the-phone.