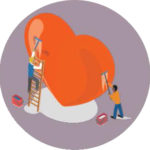 What It Does
This nonprofit civic journalism lab based on the south side of Chicago has been reinventing local journalism since 2015. City Bureau has expanded who reports and contributes to stories and has created forums where citizens engage with public affairs. It trains new journalists who may not have professional reporting experience or journalism degrees, and engages community members previously excluded from public discourse. Making the journalism workforce more representative of its audience results in more comprehensive coverage and develops new audiences.
City Bureau increases access to critical information and citizen engagement through three main programs: An 11-week Civic Reporting Program partners fellows (early career journalists) with team leaders (experienced journalists) to report news and mentor young Chicago media-makers. Its Documenters program recruits, trains, and pays community members $15 an hour to report on public meetings of school boards, zoning commissions, and others that few people attend but where major policy decisions are made. Its Public Newsroom program hosts weekly workshops where journalists and guest speakers gather with the public to share resources and discuss local issues to make journalism more engaging while building the community's journalism capacity.
How Effective It Is
With its programs, City Bureau provides more comprehensive and relevant coverage by expanding and diversifying the sources of information it uses to inform stories. For example, in the 2019 local elections, while other city papers published voter guides based on surveys written by their editorial boards, City Bureau reporters conducted interviews with 30 residents of the Austin neighborhood to identify the issues most important to their community, then asked candidates how they would address them. Its Public Newsroom has hosted more than 100 workshops since 2016 on topics such as upcoming elections, police accountability, and housing segregation.
City Bureau also lowers barriers to entry for becoming a journalist and engages a broader, more diverse public in the reporting process. The 5,000 Documenters City Bureau has trained over the past three years range in age from 19 to 73; 61% identify as female and 32% identify as black or African-American. At the Chicago Tribune, one of the city's largest newspapers, just 38% of newsroom staff is comprised of women and 7% is African-American.
Since 2016, Documenters have covered some 500 public meetings, amounting to more than 2,000 hours of assignments. City Bureau has partnered with more than 50 local community organizations to host Documenters' trainings, inform their fellows' reporting, and expand the audience for its stories. These community organizations, which include hyperlocal news sites, neighborhood associations, and legal service providers, then become part of a network that is sourcing and disseminating stories.
How You Can Help
City Bureau receives two-thirds of its funding from philanthropic sources, with the remaining one-third of revenue generated through reporting, research, and consulting. Its anchor funders include foundations such as Democracy Fund and MacArthur, which helped the effort launch in Chicago. Additional philanthropic funds would help finance more assignments for Documenters, which cost the organization about $30 per public meeting. City Bureau's four-person civic reporting teams cost about $13,500 for 11 weeks of reporting on a specific topic.
Funders can support City Bureau directly or replicate the model in other communities: Mississippi Today has adopted the Public Newsrooms while Detroit's WDET, Outlier Media, and CitizenDetroit have replicated the Documenters program. City Bureau estimates it costs $175,000 to $200,000 to fully pilot the program.