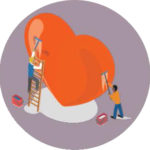 What It Does
Civics education helps students develop the knowledge, skills, and disposition to participate effectively in the democratic process. Analyses of the most civically engaged Americans have found that civics education in high school is a powerful predictor of whether citizens vote and participate in membership organizations later in life. However, the courses that historically prepared students to be effective citizens are no longer staples of high school curricula. Generation Citizen (GC) helps teachers incorporate action-based projects into civics education, preparing students to be active participants in democracy.
GC provides middle and high school teachers with the curriculum, training, and support for a semester-long civics course that embeds civic participation into the classroom through projects such as circulating petitions or contacting lawmakers. The organization operates in six states (RI, NY, CA, TX, OK, MA, plus a remote program) and engaged more than 14,000 students in 141 schools during the 2017-18 school year. In most GC classrooms, teachers are supported by Democracy Coaches, college students who volunteer to advise and mentor their "near-peers." In addition to direct support for experiential civics learning, GC works toward making civic engagement a staple of school curricula and culture through its own advocacy efforts and as part of the CivXNow coalition of foundations, academic institutions, and nonprofits supporting civics education.
How Effective It Is
GC's curriculum targets three factors that increase a student's likelihood of future civic engagement: civic knowledge, skills, and motivation. An external controlled study found a statistically significant increase in students' confidence and ability to affect change. Students whose social studies classes featured the GC curriculum also had greater knowledge of local government. While 40 states currently have some civics requirement for public schools, none mandate the experiential learning that GC emphasizes. Such experiential learning improves students' ability to apply knowledge in the real world. Internal GC evaluations found that after participating in its program, nine in 10 students indicated they could make a difference in their communities and believe that challenging injustice is important, and seven in 10 improved their collaboration skills and knowledge of local government structures. Over half increased in civic knowledge, skills, and motivation.
A GC school in Lowell, Massachusetts, provides evidence of the program's impact. Responding to the growing prevalence of "vaping" in their school, GC students researched marketing of the product and developed an action plan. They contacted legislators and eventually presented their research to a state representative who introduced a bill to limit the sales of vaping products in youth-accessible stores. Generation Citizen also provides students opportunities for ongoing engagement through its student leadership committees, which advocate for civics education.
How You Can Help
Roughly 75% of GC's annual revenue is from philanthropic sources, while the remainder comes from modest fees of about $2,500 per school. GC estimates the cost of supporting an individual student at $100. Introducing programming to a classroom in a new school, which includes training teachers and supporting Democracy Coaches, costs about $5,000 per semester. Expanding within schools to support multiple classrooms and grade levels is less costly. GC estimates the cost of school-wide support at $10,000 per year. Schools that embrace the curriculum can operate without a Democracy Coach, and are therefore less cost-intensive. Donations can support GC's national organization or any of its six program sites. Funders can support civics education more broadly through the CivXNow coalition.