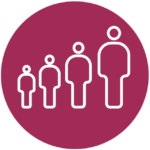 One in five children and adolescents experience a mental health disorder such as anxiety, depression, and substance use—as well as triggers for these mental health problems (e.g. stress, bullying, and family problems). Further, brain plasticity in youth means that adverse childhood experiences (ACE), such as neglect, abuse, and exposure to violence, significantly influence brain development, creating lifelong vulnerability to mental health disorders. Half of all mental health disorders begin by the age 14, and three-quarters begin by age 24.
Suicide is now second only to unintentional injury among causes of death among 10- to 34-year-olds. Yet 62% of youth (ages 12-17) with depression, a major contributor to suicide, do not receive any mental health treatment and more than half do not receive the care they need.
The following are concrete, evidence-based areas to support young people through age 25, organized by developmental stage. To help youth who are not connected to school or work access support for mental health, employment, and more, see our guide Reconnected: Opportunity Youth, https://www.impact.upenn.edu/reconnected/.
A Strong Start to Life
Helping parents develop positive bonds with their children and teaching them parenting skills and autonomy significantly improves child outcomes and parental health. For example, home visiting programs in which a trained and trusted provider delivers practical and emotional support result in fewer child emergency visits, lower maternal stress, reduced anxiety and depression, and lower rates of substantiated child abuse and neglect or involvement in the juvenile justice system.
There is a severe shortage of child psychiatrists, especially in low-income and rural communities. Connecting pediatricians and other providers (e.g. school nurses, counselors) to technology and training that increases literacy in mental health disorders and substance use disorders (SUDs) enables them to screen (and in some cases treat) common disorders while referring more severe cases to specialty providers. Well visits also present an extraordinary opportunity to identify and intervene when young people present with early signs of a mental health disorder or addiction. These supports can also protect children from ACEs, which are associated with increased risk of mental health disorders and addiction.
Support for School-aged Youth
When children experience prolonged "toxic" stress or trauma, their bodies and brains adapt to the feeling of being in constant danger and they may withdraw, becoming unresponsive to adults around them and unable to learn in school. Education practices informed by and responsive to children who have experienced trauma increase emotional intelligence, build mental health literacy, and help educators engage children. Integrating information about mental health disorders into health curriculum at schools reduces children's anxiety levels and depressive episodes, with reductions in onset and recurrence in the first year after the intervention.
Funding can also provide training and technology to school counselors and other providers who are critical to supporting the diverse needs of students, or support extracurricular activities such as sports, arts, clubs, and volunteer or mentorship opportunities, which have been shown to reduce drug use and improve socio-emotional development. Donors can also support the identification and testing of new approaches to prevent youth suicide.
How to Help
Direct Services
•  Support home visiting and community programs to help new parents
•  Fund school programs to provide integrated mental health education
•  Support peer-led programs for young adults
System Capacity Building
•  Equip pediatricians and other providers to screen and care for mental health
•  Train educators in trauma-informed practices
Policy/Advocacy
•  Increase funding to support additional qualified providers in schools
•  Advocate for the expansion of and reimbursement for life skills programs
Research/Innovation
•  Support evaluation of long-term program outcomes
•  Develop effective youth suicide-prevention programs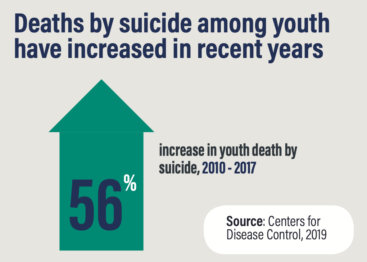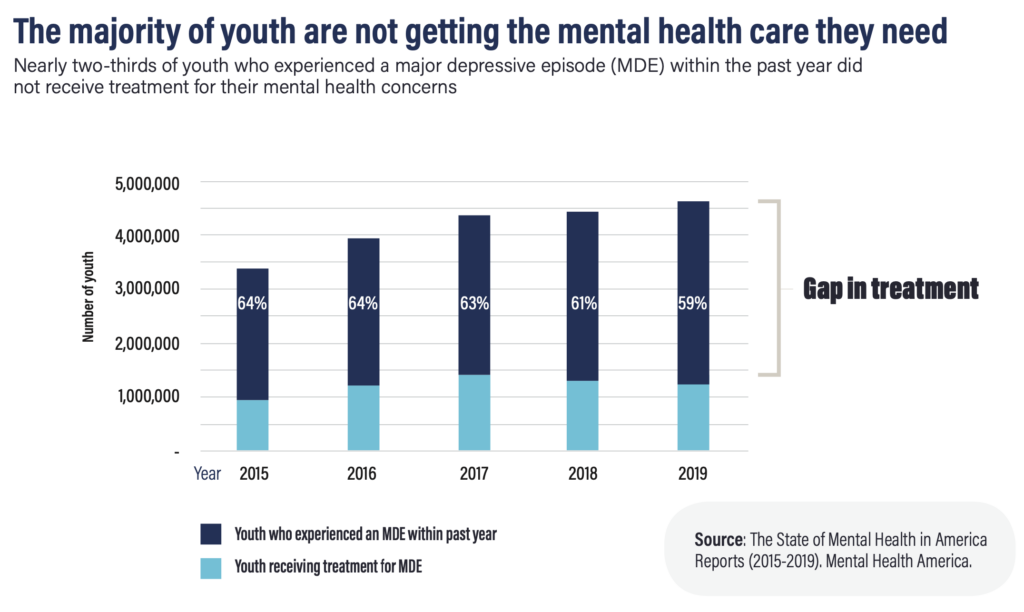 Resilience and Life Skills
People between the ages of 18 and 25 have the highest rates of mental health disorders of all age groups. Late adolescence is a critical time as individuals transition to greater independence. It is also a high-risk developmental period during which their emotional and self-regulatory maturation is still incomplete. Further, young adults make up a large subset of the veteran population, as well as people in the criminal justice system and foster care system (all populations that have a high rate of mental health disorders and SUDs), yet they have the lowest rate for receiving treatment.
Life skills programs can help individuals build skills needed to live independently and achieve school or career success by reducing stress, anxiety, drug and alcohol usage, and rates of incarceration, while increasing graduation and employment rates. One study found that when disadvantaged youth are provided social-cognitive supports, graduation rates increase by up to 14%. Peer-led awareness, prevention, and support programs build mental health literacy and provide opportunities for young adults to engage with their peers. Early research shows that among youth in particular, peers are powerful tools in supporting the mental health needs of their friends and classmates.