Improve both job prospects and medical access for those disproportionately affected
Women, immigrants, and minorities are disproportionately likely to experience poverty, and during the COVID-19 pandemic were more likely to lose employment income and experience food insecurity.[1] For many in the United States, English is a second language, and a lack of translation services prevent them from accessing healthcare, leading to poor health outcomes Found in Translation trains low-income, bilingual women to be professional medical interpreters.[2]
What It Does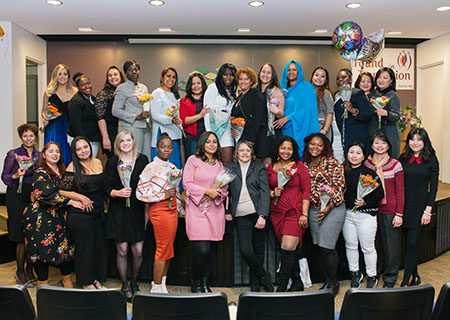 Since 2011, Found in Translation's Language Access Fellowship program has trained 291 low-income, multilingual women to become medical interpreters and linked them to jobs across the Boston area. The program is free of charge and includes supportive services such as on-site childcare, assistance with transportation, and access to technology. 45% of program graduates ("Fellows") are single moms, and 49% were homeless or had a history of homelessness at intake. Fellows represent 50 countries and 47 languages, including Spanish, Haitian Creole, Arabic, and Portuguese.
The core curriculum prepares Fellows for the Medical Interpreter Certificate. Fellows participate in 140 hours of skills-based training that covers interpreter skills, roles, ethics, medical terminology, anatomy, and advanced skills. Fellows also receive training in job readiness and financial literacy. Upon earning their certificates, fellows receive job search and placement support. They remain engaged with Found in Translation through a wide array of ongoing professional development and networking opportunities.
In response to COVID-19, Found in Translation moved their programming online. Found in Translation hopes to leverage their new, technology-enabled program model to make its programming more accessible and replicable. To meet the evolving needs of alumnae, programming has expanded to include computer literacy and remote interpreting components that prepare Fellows for the increasingly digitized world of interpreting.
How Effective It Is
The majority of Found in Translation graduates find translation jobs within three to six months. For example, of the 2019 intake cohort, 71% found employment in 3 months, and 72% of those found translation jobs. Their average wages climbed from under $18 per hour at intake to $25 per hour in one year, the equivalent of adding $14,000 in annual income to their salary prior to enrollment. That increase in annual income in  the first year alone, already exceeds the $10,000 cost of training per student.
Alumnae interpreters provide translation services to an estimated 35,000 limited-English speakers, facilitating more equitable access to healthcare. Fellows are employed at all major hospitals and interpreter agencies in Boston. Some Fellows go on to become legal interpreters, while others take on non-interpreting positions in medical settings such as health insurance representatives, patient navigators, and community health workers.
Experienced alumnae return to the program for professional development programs and to support their newer peers through mentoring, providing job referrals, and hiring graduates. In 2021, 90% of Found in Translation's faculty were program alumnae.
How You Can Help
Philanthropic support allows programs and supportive services to remain free of charge for participants. A $100 donation can provide one month of transportation assistance for a student or pays for an alumnae gathering. A gift of $1,000 covers textbooks for eight students, or the national certification registration fees for five. As mentioned, $10,000 covers training costs for one student. Learn more at https://found-in-translation.org.
More Ways to Help — Other organizations that train workers for careers include Generation, which transforms education-to-employment systems in 16 countries in Africa, the Americas, Asia, and Europe to prepare, place, and support people into life-changing careers that would otherwise be inaccessible. In the United States, Year Up moves low-income young adults towards post-secondary education or employment by providing six months of skills education and a six-month corporate internship; and the Center for Employment Opportunities (CEO) offers individuals just coming home from prison the ongoing support necessary to build career capital and financial stability.
Notes
[1] Stacy, C., and Fiol, O. 2021. "Inclusive Recovery to Increase Equity." www.urban.org. https://www.urban.org/sites/default/files/publication/104247/inclusive-recovery-to-increase-equity_0.pdf.
[2] Eldred, S. M. 2018. "With scarce access to interpreters, immigrants struggle to understand doctors' orders." NPR. https://www.npr.org/sections/health-shots/2018/08/15/638913165/with-scarce-access-to-medical-interpreters-immigrant-patients-struggle-to-unders.