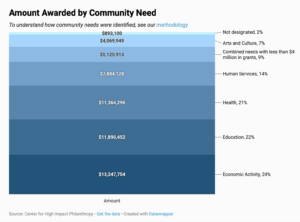 According to the Census Bureau's recent U.S. Household Pulse Survey, about half of the 5 million residents in the Philadelphia, Wilmington, and Camden area have experienced some employment income loss. Economic fallout from COVID-19 has put significant pressure on nonprofits, as they meet increasing needs for food, housing, childcare, and more—in response, the philanthropic community established local COVID-19 relief funds to support these nonprofits. From May to July 2020, CHIP collected grant award data from 13 of these COVID-19 funds in Southeastern Pennsylvania and Southern New Jersey and visualized the awards against indicators of community need.
CHIP's ultimate goal is to determine the best crisis funding practices. "We need to know what are the needs that the shared funds are addressing? Given the scale of harm, we are going to require smarter, more coordinated funding and this COVID-19 dashboard will enable that. It will make philanthropy more effective and efficient," Executive Director Kat Rosqueta told Generocity.
While they will not release their lessons learned until a September 29 webinar at noon—which is open to the public—they have created the Regional COVID Response Dashboard which shows how the grant money has been dispersed so far. The lion's share of the funds has gone to the areas of largest community need—economic activity ($13 million), education ($12 million), health ($11 million), and human services ($9 million).
Read the full article on Generocity >>
Visit the COVID Response Dashboard >>