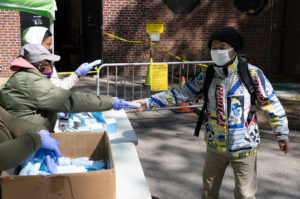 As COVID-19 takes a toll on every community and funding priority, funders are learning how to effectively respond to this historic moment. Inside Philanthropy spoke with several specialists in disaster philanthropy to gather recommendations for institutions new to this area, what lessons from past disasters still apply, and how philanthropy can plan for the long term in responding to both this pandemic and the next disasters that will inevitably strike. Kat Rosqueta, CHIP's Founding Executive Director, is featured.
"The scale of this is so large it is prompting funders to do things that everybody knew were the right things to do, but it takes a crisis," said Rosqueta of the Center for High Impact Philanthropy. For example, she sees grantmakers and external partners coordinating in real time on their response to a much greater extent—and greater speed—than before the crisis.
Her center is involved in one such effort. In partnership with Philanthropy Network Greater Philadelphia, and with funding from the William Penn Foundation, the center is developing a regional philanthropic data dashboard for COVID-19 response funds in southeastern Pennsylvania and southern New Jersey. Similarly, Philanthropy California is working to coordinate the more than 100 response funds in the Golden State and identify both overlap and gaps. Each project is born out of the pressing need to align efforts.
"Over a dozen funds came together and said, 'You know what, we don't have a minute or a penny to waste,'" Rosqueta said. "'If we don't respond in a coordinated way, this is not going to work.'"