What is measles?
Measles is a highly infectious virus causing severe disease, disability, and death, with the worst outcomes occurring in children, the malnourished, and those with weakened immune systems.
Measles is so contagious that more than 90% of people who come into contact with someone infected with the virus will develop it if they have not been vaccinated or previously infected.
Why is measles control a cost-effective investment?
The measles vaccine is highly effective and safe. It can be combined with other vaccines, like rubella, and its delivery with other health interventions can maximize financial and health impacts. Local volunteers mobilize communities for measles campaigns and other vaccine programs, which are implemented using pre-existing infrastructures from past disease elimination initiatives (i.e., Global Polio Eradication Initiative).
Saving Lives Through Childhood Vaccines: Cost/Impact Profile
Cost per impact
Cost per child life saved: ~$150-200
Cost per life year saved: ~$7
Average cost
~$1 per dose of vaccine (including delivery costs)
~$2 to protect a child against measles (2 doses)
Representative Impacts and Outcomes:
Global measles cases fell by 58% and deaths caused by measles were reduced by 71% between 2000 and 2010.
Vaccines are one of public health's greatest success stories. Diseases that once devastated populations are now easily prevented through the use of vaccines. The challenge today is access, which is why measles control and elimination is a particularly high impact opportunity. Measles vaccination carries one of the highest health returns for money spent, saving lives at an estimated cost of < $200 per life saved.
The Problem
Each year, measles kills more than 150,000 people and infects and disables millions more.1Despite the availability of a highly effective, inexpensive vaccine, children are being missed by this life-saving intervention. Globally, each year more than 20 million infants do not receive a dose of measles vaccine and more than half of those unvaccinated children are in just five countries (the Democratic Republic of the Congo, Ethiopia, India, Nigeria, and Pakistan).2 In many poor countries, parents do not have regular access to healthcare services, like vaccinations, for their children. As public health funds have decreased over the years, these developing countries are faced with more and more measles cases. In countries where the vaccine is available, many parents do not know about the benefits of having their child vaccinated, and some live in remote places where they are unable to access these services. Worldwide, there are many gaps in access to the measles vaccine.
The Solution
A safe, effective measles vaccine has been in use since the mid-1960s. With this vaccine, the world has seen tremendous success. Prior to widespread measles vaccination, there were an estimated 2.6 million deaths worldwide each year.3 Today, global measles control efforts focus on achieving and maintaining high levels of population immunity by providing the measles vaccine to children everywhere. Of all health interventions, the measles vaccination carries one of the highest health returns. Globally, it costs about $1 to provide one dose of the vaccine; this price includes the vaccine and all healthcare costs associated with vaccination. Since a small percentage of children fail to develop immunity from one dose, two doses are recommended to ensure protection; hence, you can fully protect a child from measles for approximately $2.
The Measles and Rubella Initiative works to bridge gaps in access and to provide the measles vaccine to every child.
Case Study: The Measles and Rubella Initiative
About the organization
Launched in 2001 as "The Measles Initiative" in response to the great number of children around the world dying of measles
Partnership led by the American Red Cross, United Nations Foundation, U.S. Centers for Disease Control and Prevention (CDC), UNICEF, and the World Health Organization
Emphasizes the specialties of each partnering organization, working collaboratively for global measles control
Uses effective, evidence-based practices, employing the strategies used by previous successful immunization programs like the Pan American Health Organization (PAHO) initiative for measles elimination in the Western Hemisphere and the Global Polio Eradication Initiative
Now goes by the name "The Measles and Rubella Initiative" because measles and rubella can be protected against with just one vaccine
Where are they working?
The Measles and Rubella Initiative works collaboratively with local governments and other international partners in more than 60 priority countries where measles vaccination rates are low.
How It Works
There are three key ingredients to the success of the Measles and Rubella Initiative:
Supplying the vaccine to children everywhere: The Measles and Rubella Initiative's logistical planning ensures that a supply of vaccine will be available to children around the world. For full protection, two doses of the measles vaccine are recommended. Vaccines can be given through routine health services (i.e., visit to a health clinic), or through periodic campaigns that work to vaccinate all children in a defined age range in a community in a short period of time, typically a few days. Since many countries do not have the capacity and systems in place to provide two doses through routine services, immunization campaigns work to reach those who are more likely to be missed. Campaigns require extensive pre-planning, and through these efforts, routine health services are also strengthened and upgraded.
Ensuring the demand by mobilizing communities: Community mobilization is essential to the success of measles vaccination efforts. Community health workers and volunteers educate families and communicate the importance of vaccinating their children. A variety of culturally sensitive techniques are used to dispel rumors or unfounded fears. Health workers and volunteers also travel to regions where children are often missed by routine immunization services, reaching displaced and vulnerable populations.
Monitoring success through case-based surveillance: A sensitive surveillance system is essential for measles immunization programs. In order to ensure success and track progress, The Measles and Rubella Initiative assists countries in implementing and maintaining surveillance and laboratory systems. These systems are integrated with surveillance for other diseases and are built upon infrastructure established by other disease elimination programs, such as the Global Polio Eradication Initiative. Surveillance systems ensure the notification and the timely investigation of children with suspected measles infection. Lab testing uses blood samples obtained from suspected cases to confirm or rule out measles infection. The data from surveillance allows the Measles and Rubella Initiative and its partners to assess the burden of measles and to look at trends in morbidity and mortality in order to detect outbreaks in a timely manner.
Representative Impacts
Increased vaccination rates: Since its inception, the Measles and Rubella Initiative has vaccinated over 1.1 billion children against measles, raising global measles immunization coverage from 72% to 85% between 2000 and 2010.4
Decreased measles cases and deaths: Global measles deaths were reduced by 71% and measles cases fell by 58% between 2000 and 2010.5
Improved child survival: Data from a longer period of time shows that accelerated measles control activities accounted for ~25% of the total decline in childhood mortality since 1990.6 Accelerated measles control activities have led to an 85% reduction in global measles-related mortality, from 1.1 million deaths in 1990 to 158,000 deaths in 2011.
Improved country capacity to detect measles cases and outbreaks: 94% of countries use recommended measles case-based surveillance, and 98% have access to quality-controlled measles testing.7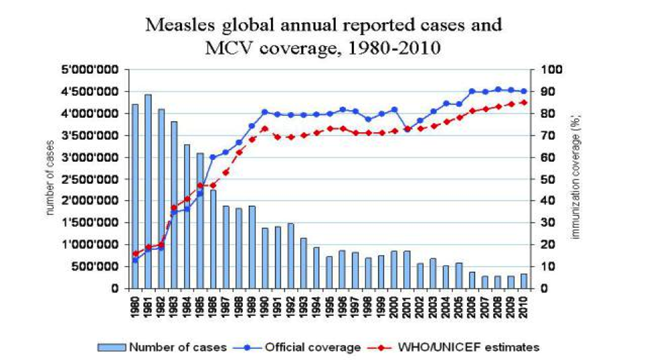 Exciting new opportunities and developments
In March of 2013, Rwanda became the first Sub-Saharan African country to provide the combined measles and rubella vaccine. Combined vaccines are supported through funds from global donors and country government partners, including the GAVI Alliance. Through the GAVI Alliance's support, 700 million children in 40 countries will receive the combined measles and rubella vaccine by 2020.
Additional Impacts
Improved local clinic capacity and increased demand for other health services, such as:
Better training of healthcare workers, which leads to an improvement in their skills
Upgrades to health clinics (i.e., cold chain systems, waste management, and vaccine injection safety)
Identification of more children eligible for vaccination
Greater awareness and demand for vaccination amongst local communities
Program Costs
The cost to fully protect a child against measles is ~$2
Every child needs two doses for full protection, the first dose by age one and the second typically by age five.
The cost includes the vaccine and syringe, the delivery of the vaccine to the country, and any operational costs, such as education or community mobilization, and delivery to the children.
Measles outbreak detection and surveillance costs
Surveillance is critical to the success of measles vaccination efforts. Through lab testing, any suspected measles cases can be officially confirmed, allowing for the rapid detection of outbreaks. Surveillance also allows experts to confirm whether an immunization program has been successful.
The cost for surveillance is based on the size and population of the country or region being served. For reference, the annual operational costs for surveillance in Bangladesh are $2.5 million.8
Cost/Impact Profile
Based on our estimates of measles control in India:
~$
0
Estimated cost per life saved
~$
0
Cost per life year saved
For the Number Crunchers...
The following is a case example of the cost and impact of measles vaccination efforts in India. The case uses the Lives Saved Tool, a modeling estimator for intervention impact. Learn more about the Lives Saved Tool.
What would it take to increase India's vaccine coverage rate to 95%?
It would cost an estimated $150-200 per additional life saved, or about $7 for each life year saved.
In 2010, 47% of all global measles-related deaths were in India. Unfortunately, the measles vaccine coverage level remains low (around 74%) in India today.11 The country needs to reach the recommended vaccine coverage level of 95%, which would ensure that virtually all children in India would have access to the measles vaccine. The approximate cost of this scale-up would be around $8.1 million.12 This incremental increase in coverage would be expected to save an additional 51,000 deaths in one year, costing around $150-200 per additional life saved, or about $7 per life year saved (discounted life year).13 Using discounted life years, standard practice assumes ~21 life years for a child life saved. If one did not discount life years and instead assumed a child life saved to be ~60 life years, the cost per life year would be even more impressive, ~$3-4 per life year saved. This increase in coverage would work to reduce the number of children who are still dying from measles in an extremely cost-effective way.
What is the estimated cost per impact of India's current measles activities?
We estimate that current efforts save over 150,000 lives each year, at a cost of ~$29 million.14 It is important to note that the current vaccine coverage level of 74% is also working to save millions of lives. Immunization rates must remain high year after year, which requires continued funding.
In order to fully understand the necessity of ongoing immunization, we need to imagine a scenario where economic downturn has forced vaccination efforts to stop.
In India, an estimated 26 million children are born each year, which means that 4 to 5 years of no measles vaccinations would leave around 100 million children under the age of 5 unprotected against measles. Since measles is so extremely contagious, you could conservatively expect that 90% of the population would develop measles. Also consider that once a child has measles, he or she is 10 times more likely to die in a developing country than he or she would be in a developed country like the US.15 Of the 100 million children in India that would be susceptible to measles over a 5-year period, about 90 million would develop measles, and 900,000 would die.
The benefits of ensuring high levels of measles vaccine coverage are clear. While these estimates are highly cost-effective by all standards, they are also conservative, and do not subtract out any possible cost savings countries would see from a decrease in need for measles treatment and hospitalization or disability (e.g., blindness, encephalitis, etc.).
These rough estimates are also very close to the estimates of other public health scholars at the World Health Organization and Johns Hopkins Bloomberg School of Public Health.16,17
Taking Action: Donor Tools and Resources
For more information about the Measles and Rubella Initiative, visit www.measlesrubellainitiative.org or contact Andrea Gay at the UN Foundation agay@unfoundation.org.
For donors interested in contributing to the fight against measles, you can donate through the Measles and Rubella Initiative website.
The Measles and Rubella Initiative jointly coordinates resources and funds through the UN Foundation. The UN Foundation is an international organization linking donors with the United Nation's work in countries in need around the world. Since needs and challenges in global measles control change on a daily basis, the UN Foundation provides the best mechanism to match donor funds with the most pressing needs.
Despite the success seen over the past decade, donor and government funding have dropped considerably in the last several years. There is great need for philanthropic investment in measles vaccination, both to maintain current success and to achieve measles elimination.
Additional Opportunities for Entrepreneurial Donors
Contributing to measles control is a high-leverage investment. Other philanthropic opportunities in the fight against measles include: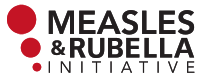 Vaccine Programs: Major Takeaways
Measles vaccination is a particularly high-impact opportunity to prevent a major cause of child death and disability. The vaccine is responsible for a significant reduction in the number of child deaths worldwide.
Measles vaccination is a highly cost-effective investment because it can be combined with other health interventions, and supported through the efforts of thousands of local volunteers.
Vaccination efforts need to be kept up year after year to maintain success. With intensified efforts, it is possible to eliminate measles, so that in the future, no child suffers from this deadly disease.
One way to maximize the impact of interventions with minimal additional cost is to add the rubella antigen to the measles vaccine. While rubella causes mild disease in children, the rubella virus can cause serious birth defects to babies who were infected in-utero, known as congenital rubella syndrome (CRS). Around 100,000 children are born with severe disabilities due to CRS each year.18 The combined measles and rubella vaccine allows for protection against two illnesses and is only around $0.25 more per dose than a measles-only vaccine.
In addition to protecting against measles and rubella, vaccination campaigns can be used as platforms to provide other life-saving interventions. Other interventions that can be easily incorporated in measles vaccination efforts include insecticide-treated bed net distribution for malaria prevention, and the distribution of oral polio vaccine, vitamin A, and de-worming medications.
Many organizations are working to find innovative solutions to overcome complex obstacles in vaccination programs. By contributing to these solutions, future measles vaccination programs in developing countries will have the ability to function independently.
Some examples:
Improved supply chain logistics: For example, VillageReach is an organization working with remote and underserved communities to ensure access to reliable healthcare. By pioneering the Dedicated Logistics System (DLS) to increase the scale and efficiency of vaccine delivery, their program in Mozambique has been able to increase basic vaccine coverage of children from 69 percent to 95 percent since 2001.
Cold chain technologies: The measles vaccine, like many other vaccines, needs to be kept at a constant temperature to remain effective. Clinics need to be equipped with refrigerators and outreach workers must have proper coolers during vaccine transport in order to maintain the vaccine's temperature. One organization improving cold chain technologies is PATH, which is located in Seattle, WA. Their vaccine vial monitor is a small sticker that is placed on a vaccine vial that changes color if the vaccine has been exposed to too much heat, alerting the healthcare worker, so that no child is immunized with an inactive vaccine.