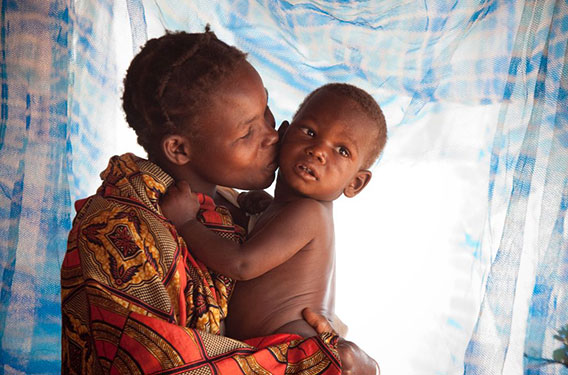 Every year over six million children die before they reach their fifth birthday, mostly from preventable causes such as pneumonia and diarrhea.1 The good news is that we have many proven effective tools to prevent and to treat disease and community-level approaches that are relatively low-cost within easy reach of a donor to support. In fact, an estimated two-thirds of child deaths can be prevented with the interventions available and feasible today.2
Our series on child survival provides donors with the tools they need to take action:
Best evidence-based models and approaches that match the needs on the ground
Illustrative examples of how organizations effectively and efficiently deliver the solutions that we know work (including their estimated impacts and related costs)
Decision making tools and frameworks for how to think about strategic philanthropic opportunities, use best practices, and estimate impact
For donors who care about impact, here are ways you can help:
Take Action
Learn How to Give Strategically
1. Treat and Prevent Now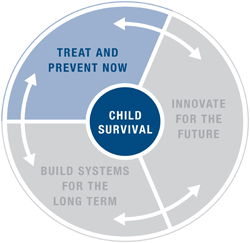 Increase access to life-saving prevention and treatment at the community level.
Effective and cost-efficient tools and approaches exist for the most common deadly conditions of childhood but they are not reaching many who need them most. Examples of effective delivery strategies philanthropists can support:
Models such as community-case management (CCM) bring low-cost therapies (antibiotics for pneumonia, oral rehydration therapy for diarrhea, and anti-malaria medications) to children in their own communities through well-trained and supervised community health workers. Deliver life-saving medical treatment to children.
Mother-to-mother community education programs targeting areas such as exclusive breastfeeding and early newborn care have the potential to avert infant deaths and provide a healthy start to children. Save newborn lives with home-based care packages.
Integrated platforms that deliver several tools together can decrease delivery barriers and costs especially in hard to reach areas. For example, once a year "rapid impact packages" of de-worming medications treat the most common neglected parasitic diseases. Child health days reach large portions of the populations with cost-effective prevention tools such as Vitamin A, insecticide-treated bednets, and measles immunizations.
Comprehensive community-based primary healthcare systems effectively link programming at the household, clinic, and referral hospital levels to address the main threats to health in a region as well as link to programs in clean water/sanitation, education, and economic development that address the root causes of ill health. Support comprehensive community-based health programs.
2. Build Systems for the Long Term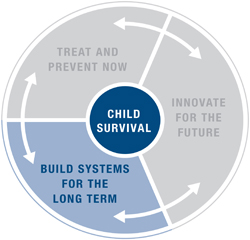 Strengthen human resource and health system capacity.
The long-term sustainability of child health programs requires investments in areas such health work force, supply chain and logistics, and information for effective decision making. Examples of philanthropic opportunities include supporting delivery systems for vaccines or fortification for micronutrients such as folic acid and iodine.
Mobile devices and decision assistance may help overcome geographic barriers to get timely data from the community level to improve the quality of care, priority setting, and performance. Creative partnerships of universities, governments, non-profits, and the private sector can together tackle the crisis issue of training and retaining all levels of health workers in the developing world particularly in sub-Saharan Africa.
3. Innovate for the Future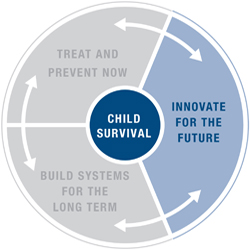 Support innovation for new tools and delivery platforms to reach neglected communities.
New discoveries are critical to improve our current tools, develop solutions in neglected areas, and to stay ahead of evolving drug resistance. In addition, new delivery strategies that can reach the rural poor and urban slum dwellers need to be piloted and examined. For example, promising models include those that use microcredit lending groups to reach women and their children with health services or franchised private sector health clinics.
FOOTNOTES
1 Unicef. Levels and Trends in Child Mortality report 2014. https://www.data.unicef.org/fckimages/uploads/1410869227_Child_Mortality_Report_2014.pdf
Two main causes of death in young children under five are diarrhea and pneumonia, often termed the "forgotten killers" because they receive relatively little attention compared to diseases such as HIV/AIDS and malaria. In addition, under-nutrition is now implicated in up to one third of all child deaths, making children more susceptible to disease, and weakening their ability to fight diseases already acquired.
2 Jones G et al. "How many child deaths can we prevent this year?. The Lancet, Volume 362, July 2003.
There are many effective low-tech solutions that donors can support that address these diseases and other key areas such as newborn health. For examples, appropriate use of exclusive breastfeeding and complementary feeding practices could reduce mortality by 19%.