GIVING GUIDE PDF NOW AVAILABLE!
Print versions available for purchase; please contact us for details.
 HIGH IMPACT OPPORTUNITIES
Below are nine specific high impact opportunities handpicked by our team and analyzed for evidence of impact and cost-effectiveness. With each opportunity, we provide background on a specific cause, an organization working effectively in that space, and suggestions of ways to contribute to the charity and/or cause.
Tips to Turn Year-End Giving into Year-Round Impact
Many donors make charitable gifts at the end of the year. Here are three simple tips to turn that year-end giving into year-round impact:
START WITH IMPACT. High impact philanthropy starts with asking, 'What is the philanthropic goal of this donation?' That goal could be feeding the hungry, teaching kids to read, preventing child deaths from malaria, or any number of other worthy causes. The trick is to first identify the social impact goal, and then understand how a donation makes progress towards that goal. Without that clarity, it can be easy to support programs that don't directly—or effectively—tackle the problem you're trying to help solve.
THINK BANG FOR BUCK. Once you know the social impact goal, understand what it might cost to achieve that goal. For example, it can cost approximately $2 to protect a child from measles in Mozambique, $1,400 to save a child's life in India, and about $2,500 to help an at-risk student in the U.S. finish college. Another way to think of bang-for-buck compares costs with societal benefits: For every $1 spent on a nurse visitation program, as a society we receive over $5 back from improved health, education, and employment outcomes. Note that bang-for-buck is not about the percent spent on administrative costs – also known as overhead ratios. It's about what the organization achieves with the money it spends. The important question is not, "What does this nonprofit spend on administrative costs?" but "What does success cost?"
A LITTLE RESEARCH GOES A LONG WAY. In addition to the nine opportunities and the list of resources outlined in this guide, you'll find a wealth of free information on our website that can help you do more good. We've developed topic-specific guidance in areas such as education, child survival, disaster relief, and more. We also provide materials to help donors think about high impact approaches no matter what the topic—for instance, how do you define impact? And how do you engage with your grantees to maximize positive impact?
By focusing on impact, thinking bang-for-buck, and doing a little research, donors can make sure that this annual flood of year-end giving reflects more than generosity and good intentions. It can mark the start of year-round impact.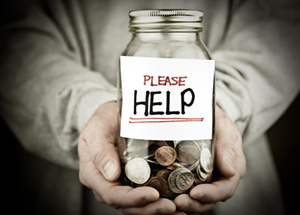 The recent $187 million charity fraud scandal involving four cancer charities is plenty to give donors pause. Yet we should always remember that when we're asked to give, there's a difference between a great and worthy cause and a great and worthy nonprofit organization. It's your right as a philanthropist to practice some due diligence (and even some healthy skepticism) before committing your funds to a particular organization. The nonprofits that see more funding are the ones not just doing impressive work but also being transparent about how they're doing it. Remember, just because someone is asking you to support a worthy effort, doesn't mean you can't take some time to consider it—just like you would if someone was selling you an investment or a new product.
Here are some things you can do to avoid charitable fraud:
More Resources for Identifying Nonprofits to Support
FOR GENERAL INFORMATION ON NONPROFIT ORGANIZATIONS
For donors looking for additional information on U.S.-based nonprofits they already support, the following sites offer information beyond overhead ratios (which remain a crude and poor proxy for understanding a nonprofit's effectiveness). Members of our center serve as advisors to both organizations as they work to address issues of nonprofit impact and effectiveness.
TO LEARN MORE ABOUT CAUSES AND ORGANIZATIONS
Using the following resources, donors can learn more about causes and organizations they are considering supporting.
TO IDENTIFY NONPROFITS ANALYZED BY EVIDENCE OF IMPACT AND COST- EFFECTIVENESS
GiveWell, a nonprofit evaluator, rates charities (both U.S.- and internationally-based) on evidence of impact, with a focus on empirical data, cost-effectiveness, and capacity for increased funding.
TO IDENTIFY ADDITIONAL NONPROFITS WORKING ON SPECIFIC ISSUES
Our website has a wealth of information and reports on how to get the most charitable bang for your philanthropic buck. In addition to our reports such as Early Childhood Toolkit, Improving Child Survival Rates, and Lifting the Burden of Addiction that point to specific organizations doing effective work worthy of your dollars, we also have these special research reports:
Rethinking the E-Word (Evidence) To some, the phrase evidence-based philanthropy offers the promise of long-overdue rigor. To others, it represents all that is going wrong with philanthropy and social innovation—the rise of the ivory-tower theorists and technocrats whose logic models and fixation with metrics blind them to real-world knowledge and common sense. It's time to rethink that pesky E-word, evidence, and use it to get to impact faster.
Beyond Compliance: Measuring to Learn, Improve, and Create Positive Change At their best, systems for monitoring and measuring nonprofit performance show  what an organization is accomplishing, where its resources are going, and how that organization might address weaknesses and build on successes. At their worst, such systems become an expensive compliance exercise, diverting resources from program delivery without   returning a greater understanding of how to achieve an organization's goals. With that context in mind, the Center and the Wharton Social Impact Initiative developed this report to tackle questions central to effective philanthropy: How do nonprofits and donors measure and manage results? What tools exist, whom do they serve, which questions do they answer, and what are the challenges in aligning donor and nonprofit measurement and management strategies? Finally, how can we do better—and what can we accomplish by getting measurement right?
What Are We Talking About When We Talk About Impact? Everybody's talking about it. Individual donors, foundations, impact investors, and nonprofits all say they want it. But what do they all mean? We examine the different ways people are using the term and the implicit assumptions that can prevent progress toward positive social change. It ends with the three key questions that enable donors to cut through the noise and stay on the path to making the positive difference they seek. Although helpful to all donors interested in practicing high impact philanthropy, the analysis offers specific examples related to addressing the needs of women and girls, thanks to our collaboration with Women Moving Millions. We further reflect on these questions as well as myths that seem to surround all this discussion about measuring and managing to impact in our blog series Five Myths and a Question about Impact.
For these reports and other resources on creating greater social impact, no matter what issue, cause, or community you care about, see Achieving Impact.
Nonprofits Mentioned in This Guide
The Center for High Impact Philanthropy is a nonprofit center, without a permanent endowment. Our work has been made possible by the generosity of the following individuals and organizations.