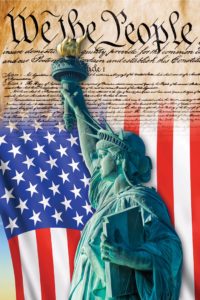 "Can philanthropy save democracy?"
In a Chronicle of Philanthropy special report in October 2019, reporter Alex Daniels sought to answer the same question that inspired CHIP's "We the People: A Philanthropic Guide to Strengthening Democracy." The guide was featured in the cover story.
The report found that nationwide for democracy projects jumped 34 percent in 2017, to $553 million, according to Candid, which tracks grant-maker activity. The time is right for philanthropists to get involved, according to Joe Goldman, president of Democracy Fund, which sponsored We the People.
"Historically it was perfectly appropriate for some funders to say, 'Look, my role is technocratic. My role is to stay out of politics,' " Goldman said in the Chronicle. "But there are points in time when the threats are such that we all need to stand up for our values. Our democracy has gone through many challenging periods, but we are definitely in a crisis point. People recognize we are in a bad spot."
Among featured organizations was Draw the Lines PA, a civic engagement initiative profiled in CHIP's supplement, "We the People: Nonprofits Making an Impact to Strengthen Democracy.
To find more about how funders can make a difference, read CHIP's full "We the People" report.