Entity Type Capabilities (adopted from Walton Personal Philanthropy Group)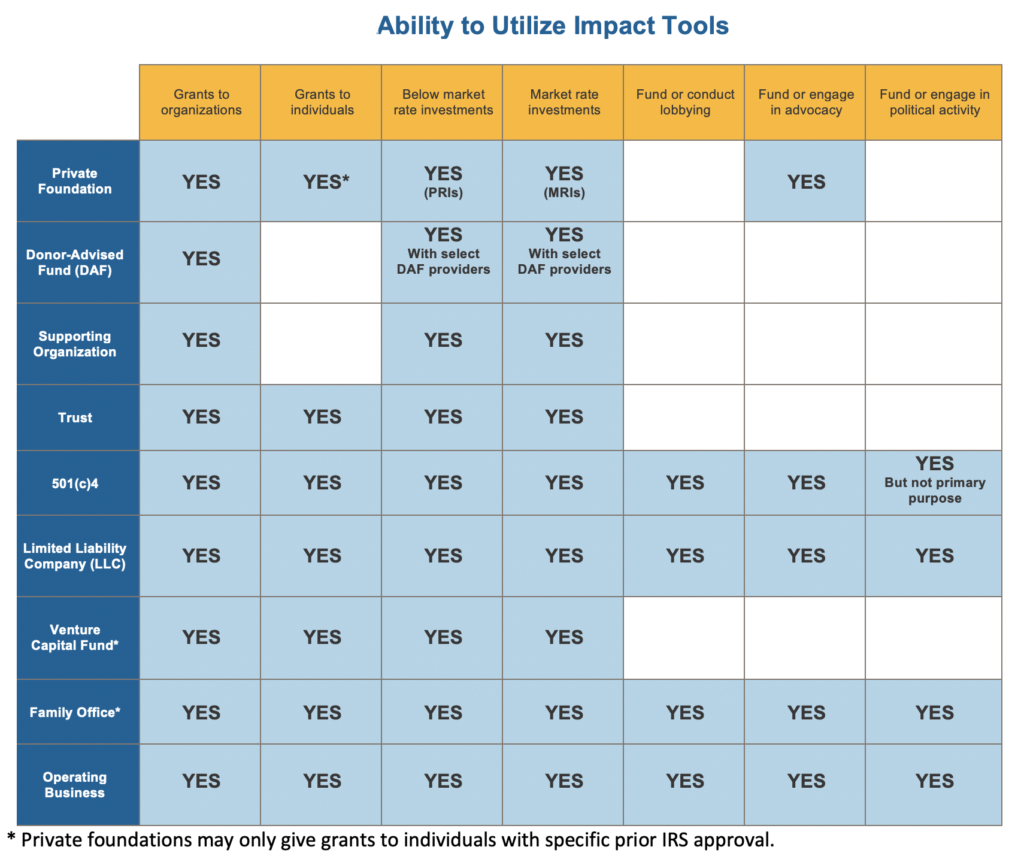 Publications
CAF America. (n.d.) 11 facts about donor advised funds and foundations.
This article describes eleven characteristics of DAFs and private foundations, comparing and evaluating each vehicle. A summary will provide concluding thoughts and discuss the trend of pairing a DAF with a private foundation.
National Philanthropic Trust. (2018). Giving vehicle comparison. 
NPT provides a side-by-side comparison of the advantages and limitations of using a DAF versus a private foundation for your giving.
Walton Personal Philanthropy Group. (2019). Structuring for impact: A new approach for creating integrated engines of change.
The Walton Personal Philanthropy Group researched how 20 founders across the country structure their impact work. It quickly became clear that there is no clear "best" archetype for the integrated approach. The operating structures we examined clearly were influenced by the founder's unique goals, preferences and priorities.
Donor Advised Funds
Fidelity Charitable. https://www.fidelitycharitable.org/
Fidelity Charitable is a 501(c)(3) public charity. They help donors maximize their giving through our donor-advised fund, called the Giving Account. Established in 1991, they distributed $7.3 billion to charities in 2019.
Impact Assets. https://www.impactassets.org/
The Impact Assets Donor Advised Fund was created "of, by and for impact investors" to facilitate direct impact investing within donor advised funds. They also connect donors to a rotating offering of private impact funds and a broader asset platform, all fully aligned to the UN Sustainable Development Goal framework.
National Philanthropic Trust. https://www.nptrust.org/donor-advised-funds/open-daf-account/
NPT works with donors in the United States and around the world, providing philanthropic guidance and professional administrative services. With an initial contribution of $10,000 or more, donors can establish a new donor-advised fund (DAF) account with NPT.
Schwab Charitable. https://www.schwabcharitable.org/
Schwab Charitable is an independent 501(c)(3) public charity whose mission is to increase charitable giving in the U.S. through a donor-advised fund account. Their accounts range from $5,000 to more than $500 million.
Vanguard Charitable. https://www.vanguardcharitable.org/
Founded by Vanguard in 1997 as an independent 501(c)(3) organization, Vanguard Charitable helps donors fulfill their philanthropic goals through a donor-advised fund. They also provide donors resources on grantmaking and navigating taxes.