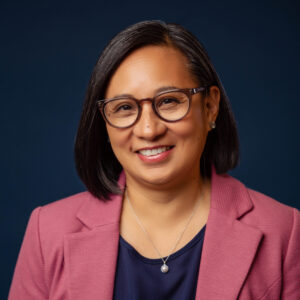 Katherina 'Kat' M. Rosqueta is the founding executive director of the Center for High Impact Philanthropy, faculty co-director of High Impact Philanthropy Academy, and adjunct faculty in the University of Pennsylvania's School of Social Policy & Practice (SP2). Founded as a collaboration between SP2 and alumni of the Wharton School, the Center for High Impact Philanthropy is the premier source of knowledge and education on how philanthropy can do more good.
Before accepting her appointment to launch the Center, Kat was a consultant with McKinsey & Company; a consultant to the founding team of New Schools Venture Fund; founding director of Board Match Plus, a San Francisco program dedicated to strengthening nonprofit boards; and program manager of Wells Fargo's Corporate Community Development Group.
She has held numerous civic leadership positions including board president of La Casa de las Madres (San Francisco's oldest and largest shelter for battered women and their children), chair of the United Way's Bay Area Week of Caring,  co-founder and executive committee member of the Women's MBA Network, board secretary and governance committee chair of Guidestar and chair of the board of Candid (merger of Foundation Center and Guidestar), the world's largest source of information on nonprofits and foundations. In addition, she serves on the national board of Greenlight Fund, a venture philanthropy fund dedicated to addressing urgent social needs cities around the United States, and co-chairs Greenlight Fund Philadelphia.
Her work and comments have been cited in numerous publications including the New York Times, Slate, Money Magazine, and the Wall Street Journal. She speaks frequently on social impact management and philanthropy and has lectured at the Wharton Business School, Stanford Graduate School of Business, University of California Haas School of Business, and the University of San Francisco's Institute for Nonprofit Organization Management.
Kat received her a BA from Yale University and an MBA from the Wharton School of the University of Pennsylvania. She was the 2012 recipient of the Wharton Women in Business Kathleen McDonald Distinguished Alumna Award, a 2011 recipient of the Brava! Women Business Achievement Award, and the 2020 recipient of the Margaret Bailey Speer Award.