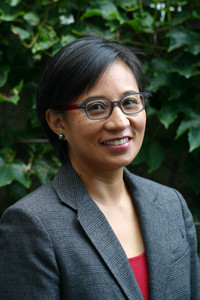 Katherina M. Rosqueta is the founding executive director of the Center for High Impact Philanthropy, the only university-based center with a singular focus on philanthropy for social impact. She leads a multi-disciplinary team that builds practical knowledge on how philanthropy can do more good. As adjunct faculty at the University of Pennsylvania's School of Social Policy & Practice (SP2), she serves as faculty director for a highly-rated course on social impact, the first of its kind open to graduate students of all 12 of Penn's schools. She also leads a team of center directors, advisors, and key Penn faculty to teach and coach families, individual donors, and other philanthropic leaders on how to apply the principles of high impact philanthropy to their giving.
Before accepting her appointment to launch the Center, Kat was a consultant with McKinsey & Company; a consultant to the founding team of New Schools Venture Fund; founding director of Board Match Plus, a San Francisco program dedicated to strengthening nonprofit boards; and program manager of Wells Fargo's Corporate Community Development Group.
She has held numerous civic leadership positions including board president of La Casa de las Madres (San Francisco's oldest and largest shelter for battered women and their children), chair of the United Way's Bay Area Week of Caring, and co-founder and executive committee member of the Women's MBA Network. She currently serves on the board of GuideStar, the world's largest source of information on nonprofits, and co-chairs Greenlight Fund Philadelphia, a venture philanthropy fund dedicated to addressing urgent social needs in Philadelphia.
Her work and comments have been cited in numerous publications including the New York Times, Slate, Money Magazine, and the Wall Street Journal. She speaks frequently on social impact management and philanthropy and has lectured at the Wharton Business School, Stanford Graduate School of Business, University of California Haas School of Business, and the University of San Francisco's Institute for Nonprofit Organization Management.
Kat received her B.A. cum laude from Yale University, and an M.B.A. from The Wharton School of the University of Pennsylvania. She was the 2012 recipient of the Wharton Women in Business Kathleen McDonald Distinguished Alumna Award and a 2011 recipient of the Brava! Women Business Achievement Award. She and her husband Michael Idinopulos live in Philadelphia with their three children.