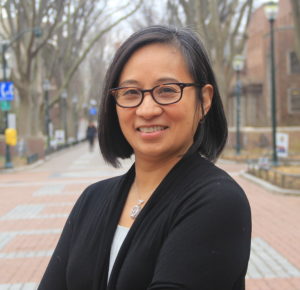 Katherina 'Kat'  M. Rosqueta is the founding executive director of the Center for High Impact Philanthropy. Founded as a collaboration between the University of Pennsylvania's School of Social Policy & Practice and alumni of the Wharton School, the Center for High Impact Philanthropy is the premier source of knowledge and education to help donors around the world do more good.
She has held numerous civic leadership positions, currently serving as vice-chair of the board of Candid (recent merger of Foundation Center and Guidestar), the world's largest source of information on nonprofits and foundations. In addition, she serves on the national board of Greenlight Fund, a venture philanthropy fund dedicated to addressing urgent social needs in cities around the United States, and co-chairs Greenlight Fund Philadelphia.
Kat received her B.A. from Yale University and an M.B.A. from The Wharton School of the University of Pennsylvania. She was the 2012 recipient of the Wharton Women in Business Kathleen McDonald Distinguished Alumna Award and a 2011 recipient of the Brava! Women Business Achievement Award. She and her husband Michael Idinopulos live in Philadelphia with their three children.