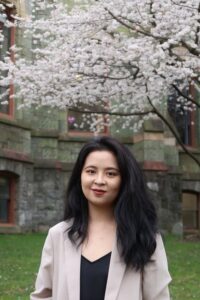 Jin is an Applied Research Assistant at the Center for High Impact Philanthropy. Her work focuses on CHIP's annual High Impact Giving Guide, identifying evidence-based strategies and solutions for how philanthropy can support COVID-19 Recovery.
Before coming to CHIP, Jin worked as a bilingual journalist based in China. She covered business and finance for Bloomberg; reported livelihood topics such as healthcare and medicine for Caixin. She is passionate about promoting media literacy and participated in an education program targeting high school students in Shanghai.
Jin earned her B.A. in Journalism from Fudan University and is currently in the Master of Science in Social Policy and Data Analytics program at the University of Pennsylvania.