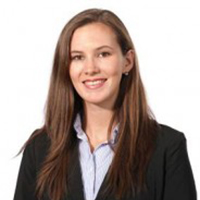 Danielle Wolfe is Executive Director of the M. Night Shyamalan Foundation. Formerly a Senior Analyst at the Center, her work included research efforts with a focus on domestic education and health issues.
Danielle first joined the Center as a Social Impact Fellow. Prior to accepting her fellowship with the Center, Danielle worked as a Program Manager for City Year in Harlem, New York, where she was responsible for designing academic and behavioral interventions for at-risk youth. While at City Year, she received a Clinton Innovation Award for founding a new afterschool program that provided young elementary students with middle school aged mentors to encourage early development of academic skills.
Danielle received her BA magna cum laude from Barnard College and her joint MPA and MS Ed with honors from the University of Pennsylvania's Fels Institute of Government and Graduate School of Education. While earning her master's, she served as Director of LEARN, and she remains civically engaged in education reform as a member of PhillyCORE Leaders and as the Development Chair of the Board of Directors for PhilaSoup.