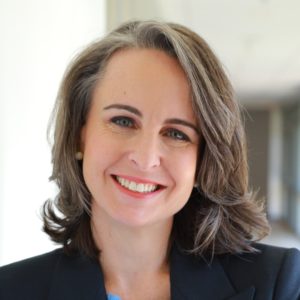 Carra Cote-Ackah is a senior fellow at the Center for High Impact Philanthropy, co-chair of the Surdna Foundation's Investment Committee, and executive director of Community Stewardship for Vanguard.
As a senior fellow, she teaches in the Center's executive education programs and serves as an advisor for work in impact investing, family philanthropy, environmental issues and other areas of expertise. She is on the research advisory board for Aligning Equity (working title), the Center's joint initiative with Tara Health Foundation and Wharton Social Impact Initiative examining current gender lens investing opportunities in public equity. She was a co-author of the Center's paper, Program-Related Investments: Is There a Bigger Opportunity for Mission Investing By Private Foundations? and has co-authored several Center reports on U.S. domestic issues.
Carra leads the Vanguard Gives Back community service activities, including its employee giving efforts, volunteer initiatives, and a new philanthropic impact program focused on early childhood. Currently, she serves as Vice Chair of The Surdna Foundation ($1 billion in assets), which grants more than $38M annually to foster sustainable communities in the U.S. She also was appointed to serve as the Alliances Chair of the Young Presidents' Organization (YPO) Thriving Communities Network, whose membership includes 4,000+ global leaders focused on social issues.
Previously, she was a Program Officer at the Robertson Foundation (over $1 billion in assets), where she partnered with multiple grantees within the education and youth development, environment, and religion/spirituality portfolios. Carra has also worked at the William Penn Foundation in Philadelphia and served on the Andrus Family Fund Board from 2002-2008, the last two years of which she was the board chairperson and oversaw approximately $4 million in grants annually. She has also worked with several nonprofits and the Children's Bureau (DHHS) on issues facing vulnerable children and families. 
In November 2016, Carra was awarded the Clara Barton Outstanding Humanitarian Award for Community Service by the American Red Cross Eastern Pennsylvania Region. Recipients of this award are distinguished corporate and community leaders that have made outstanding contributions to help improve the quality of life in their community.
She holds a Bachelor of Science, summa cum laude, in psychology and child development from Vanderbilt University. She holds a M.A. in liberal studies (specialization in public policy and racial disparities) from Duke University. She received her M.B.A. from The Wharton School, University of Pennsylvania, where she was also awarded the Morgenthau Public Administration Fellowship in support of excellence in public interest and public policy.
Carra and her husband live in Bryn Mawr, PA, with their three children. She is also active within her family's business, the Cote Family Companies, which has lodging, hospitality, and recreational holdings in Arizona and Minnesota.