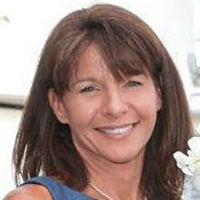 Anne Ferola was Director of Education & Strategic Partnerships, then Senior Advisor at the Center for High Impact Philanthropy at the University of Pennsylvania. She oversaw the Center's education programs, including student training and executive education, and generated and maintained key relationships with institutional funders, individual donors, and nonprofit practitioners. Prior to this position, she was a CHIP Fellow, researching topics such as donor motivators, alternative funding and finance tools, PRIs, and impact investing.
Prior to her work at the Center, Anne spent more than fifteen years in senior positions leading and generating support for nonprofit organizations in various sectors including education, healthcare and arts & culture.
Anne is a board member of T&E Care, a social services organization in the Philadelphia suburbs. She previously served as a Trustee of the Foundation for Learning in Tredyffrin/Easttown (FLITE) and a member of the Philadelphia chapter of One Mind for Research.
Anne holds a Master of Science degree in Nonprofit Leadership from the University of Pennsylvania and a Bachelor of Arts in English, Phi Beta Kappa, from the University of Miami.