When people with severe mental illnesses are unable to maintain housing and secure an adequate income, they are at risk of financial crisis, homelessness, and further deterioration of health. Here we profile one group that provides legal help to people with mental illness who are facing eviction, unable to obtain or maintain public benefits (including health insurance), consumer and other legal problems.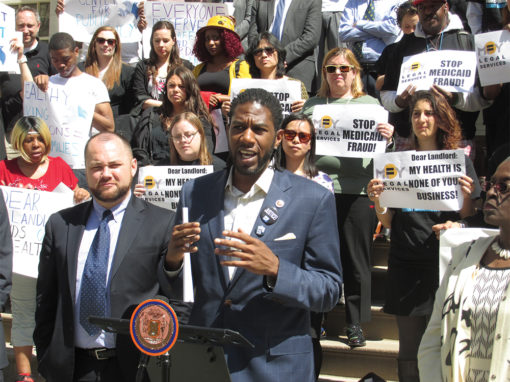 What It Does
Through a medical-legal partnership model called the "Mental Health Law Project," MFY Legal Services serves approximately 1,600 New Yorkers annually, helping people with mental illness, including those with co-occurring substance use disorders (about 40% of their client population). Recognizing that legal obstacles can often lead to health problems, lawyers and paralegals work with mental health providers to holistically address a client's legal struggles and medical needs. The Mental Health Law Project has relationships with 11 of New York City's public hospitals, and receives referrals from hundreds of city- and state-funded mental health programs who identify a legal need affecting a patient's health.
How Effective Is It
Legal support reduces the need for costly emergency services by preventing homelessness and helping clients access thousands of dollars in government benefits, such as disability benefits and public assistance, for which they are eligible. For every dollar spent, there is a return of up to $1.80. An MFY attorney serves about 200 clients for approximately $100,000 yearly (including benefits and supervision). MFY also works to affect public policy regarding mental illness through expert testimony, advocacy, and educational outreach.
Personalize This Project
To identify similar medical-legal partnerships in your community, explore the mapping tool provided by the National Center for Medical-Legal Partnerships. For those interested in supporting the development of a new partnership, the National Center also provides toolkits and other guidance.
Tips
From a public health standpoint, addressing patients' legal needs in tandem with their health needs can lead to better health outcomes and lower costs. Look for programs that closely integrate lawyers and paralegals on-site with health care teams to take care of patient legal needs that may ultimately affect their health.