New and Upcoming Guidance

More Resources
for Identifying Nonprofits to Support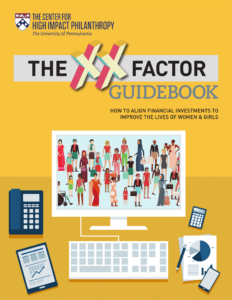 How to Align Financial Investments to Improve the Lives of Women and Girls
Following up on 2017's XX Factor framework that gave donors an evidence-based playbook for generating the greatest impact for women and girls, we now offer a related guidebook for financial investors. Historically, many financial investments were designed to optimize for financial return, without considering social impact. This guidebook adapts the original XX Factor framework and shows how it can be used to help financial investors better align with philanthropic goals. One of the most important revelations to emerge from our research and analysis is that new and better information is making it easier to infuse our framework into both grant-making guidelines and investment policy statements.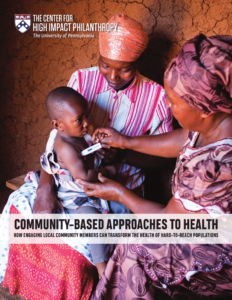 How Engaging Local Community Members Can Transform the Health of Hard-to-Reach Populations
Over the past decade, CHIP has heard from academic researchers, nonprofit practitioners, and philanthropic funders about a particular set of effective health-related tools and practices that nonprofits are using to transform the health of some of the most difficult-to-reach populations. The approach involves engaging community members and delivering life-saving health services and education, often in people's homes or other local settings. In this guide, we examine this community-based approach to health delivery and show how non-profits are using it to reach remote or underserved populations. We highlight this approach to show how donors can further support nonprofits trying to improve health and save lives when government resources are inadequate and families are too poor to pay out of pocket.
Help Impoverished Young Adults Rewire Their Life Trajectories
Of the nearly 40 million Americans between the ages of 16 and 24 in the U.S., approximately five million are neither employed nor in school. Often called "disconnected youth" or "opportunity youth," many of these young adults have experienced homelessness, substance abuse, and teen pregnancy. Still others have dropped out of the mainstream school system or been tangled up in the courts or foster systems—all of which contribute to work-limiting mental and physical disabilities and unemployment. This disconnection is not only difficult for the youth themselves, it is also costly to society in the long run.
Upcoming in 2019
Mental health and addiction disorders are a leading cause of disability and poor health worldwide. They affect people in all societies, regardless of gender, culture, or socioeconomic status. In fact, approximately one in four people worldwide experience a mental disorder at some point in their lives. Yet, addressing mental health is complicated by issues related to stigma, limited use of evidence-based solutions, a narrow focus on treatment services, and misinformation. In 2019, CHIP will share guidance on the most effective philanthropic approaches to improve mental health and addiction in the U.S. and around the world—as well as indicators and risk profiles to help donors make strategic funding decisions. This guide will be aimed at both funders new to mental health and those already engaged in related work, recognizing the links between mental health and other social impact areas such as early childhood, women and girls, and criminal justice.
Multiple surveys over the past decade have revealed Americans' declining confidence in political institutions. Meanwhile, our politics appear to be growing more angry, loud, and hateful, leaving many Americans wondering about the future of our political system. Given these public sentiments, how can philanthropy strengthen democracy? Through literature review, relevant data analysis, and expert consultation with academics, funders, and practitioners, CHIP aims to answer the question. Our guidance will describe characteristics of a strong democracy; outline the most promising, evidence-based strategies for strengthening democracy—and provide indicators to help understand progress. Our partner in developing this guidance is Democracy Fund, a bipartisan foundation established by eBay founder and philanthropist Pierre Omidyar that invests in organizations working to ensure that our political system is able to withstand new challenges and deliver on its promise to the American people.
The Center for High Impact Philanthropy (CHIP) is partnering with the Bill & Melinda Gates Foundation to develop actionable guidance on ways high net-worth donors can best staff their philanthropic organizations. The various staffing approaches that currently exist suggest that no single model meets the needs of all funders. We will identify current staffing model options and analyze their relative strengths and limitations. Our guidance will also include key principles, decision points, and illustrative case examples to help funders select and adapt the most appropriate model for their needs and social impact goals. Once developed, this guidance will be integrated into CHIP's Funder Education programs and made available more broadly.