Some 21% of all U.S. children live in households with incomes below the 2015 federal poverty threshold of $24,036 for a family of four. Such poverty—coupled with toxic stress caused by hunger, homelessness, neglect, or exposure to violence—can negatively affect a child's social, emotional, and cognitive development. Supporting parents and improving families' access to services through home visitation programs are ways to ensure better life outcomes for vulnerable children who may be at risk of not reaching their full potential. Here we profile one program that provides counseling to low-income, first-time mothers.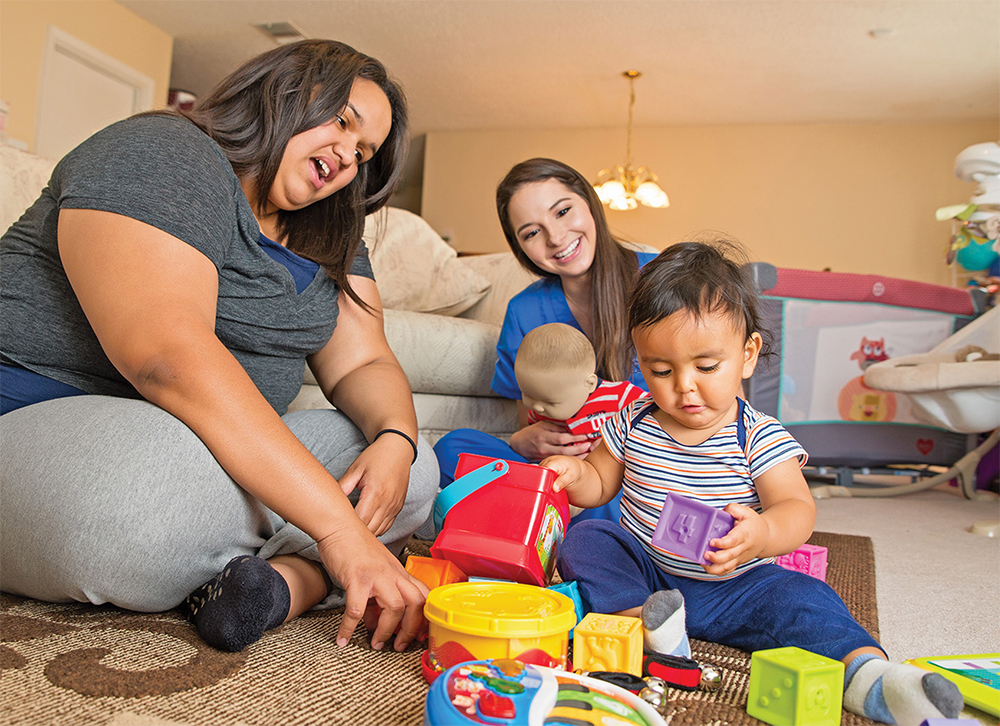 What It Does
Operating in 42 states, the U.S. Virgin Islands, and six tribal communities, Nurse-Family Partnership matches a registered nurse with a low-income expectant mom starting from early pregnancy through the child's second birthday to provide in-home counseling about healthy practices, childcare, planning for future children, and employment. Registered nurses receive more than 60 hours of training in the NFP model, meet with supervisors on a regular basis, and come together as teams for case conferences to learn from one another.
How Effective Is It
Evidence from several rigorous studies over the past 40 years has found substantial benefits for both mother and child. A landmark cost-benefit analysis by the RAND Corporation in 2005 found that the program returned $5.70 for each dollar invested to help the neediest families. This means that for every high-risk family served, society saw $41,419 of net benefits from increased tax revenues and reductions in expenses related to crime, welfare, and other social costs.
How You Can Help
Eligible families receive NFP services for free. The cost to implement the program varies depending on the location and local cost of living. For example, the yearly cost per family ranges from about $6,000 in South Carolina to $9,600 in New York City. NFP is funded through a combination of public and private support: As of 2015, the philanthropic contributions from foundations and individual donors made up 43% of total funding. You can contribute any amount on NFP's donation page.
Personalize This Project
Locate current NFP programs and their local implementing partners with its online mapping tool.  Or visit Healthy Families America, another evidence-based home visitation model with over 550 affiliated programs in 38 states, the District of Columbia, and all five US territories. Healthy Families America's website also has a state by state mapping tool.
Tips
Trust is essential in serving vulnerable families in their homes. Some communities view nurses as a particularly credible source of information. Knowledge of the local culture allows home visitors to communicate health messages effectively. The best programs often train and employ members of the community as part of their outreach teams.